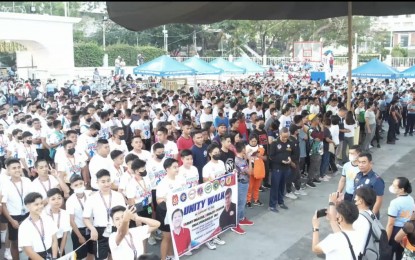 MALASIQUI, Pangasinan – The Ilocos Police Regional Office (PRO-1), different national government agencies, local government units (LGUs), non-government organizations, the academe and other sectors are now geared at working together to address the illegal drug problem in the region.
This, after the launching of the Buhay Ingatan, Droga'y Ayawan (BIDA) program of the Department of the Interior and Local Government (DILG), which was attended by some 2,000 individuals from the different sectors on Feb. 3.
In a phone interview on Tuesday, PRO-1 information officer, Capt. Karol Elizabeth Baloco, said the program aims to raise awareness and encourage participation from all sectors of the community in drug-demand reduction and rehabilitation.
"PRO-1 believes that our coordinated and consistent efforts on illegal drug demand and supply reduction will serve as the government bedrock of our country's peace and development," she said.
The roll-out came with a Unity Walk and Fun Bike activity which were followed by a Zumba which was participated in by different private schools in La Union province.
Several regional support units, meanwhile, provided a one-stop shop for their services.
"Attendees have availed of free legal consultation, cybercrime assistance, medical assistance, National Police Clearance Processing, and an information booth for recruitment processing. The Regional Community Affairs and Development Division also provided free haircuts," Baloco said.
Various agricultural products from the provinces of La Union and Pangasinan, as well as hand-crafted products created by Persons Who Used Drugs, were displayed for sale at the city plaza, she said.
The BIDA Roll-out and Service Caravan were then followed by the 2022 Regional Anti-Drug Abuse Council (ADAC) Performance Awards.
In a recent video message, DILG Secretary Benhur Abalos said the program is a response to the call of President Ferdinand R. Marcos Jr. to strengthen the government's anti-drug campaign by focusing on arresting the drug lords, rehabilitating the users, and reducing the demand.
He said this can be done by addressing the root cause by providing employment opportunities and education up to the grassroots or the communities.
The BIDA is a national anti-illegal drugs advocacy program initiated by the DILG in October 2022 and involves LGUs, national agencies, and other key sectors of society.
In the Ilocos Region, the PRO-1 has recently partnered with the Battle Against Drugs (BAD), a non-government organization, in its campaign against illegal drugs specifically targeting young people in the region.
The Philippine National Police and the BAD will join hands in exposing the adverse effects of illegal drugs in the country by conducting training, symposia, and seminars in different public and private schools in the grassroots level of the community with help from various government agencies and stakeholders, Baloco said.
They also conducted a "surprise" drug test on third-level officers and police lieutenant colonels in the region on Monday which yielded negative results.
This was conducted after at least 17 third-level officers have signed their courtesy resignations.
"This is a way to manifest our full support to the Secretary of (the) Interior and Local Government and PNP. Also, in this matter, we could prove to the people that we have a clean and clear conscience and that we are deeply rooted in the fight against illegal drugs," said Ilocos region police director, Brig. Gen. John Chua. (PNA)