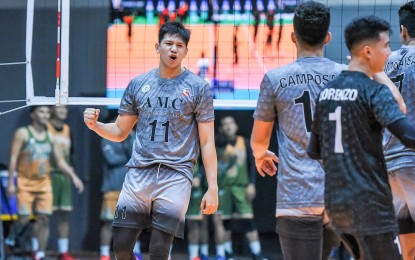 MANILA – AMC-Cotabato guns for its third straight victory against Santa Rosa on Wednesday in the Spikers' Turf Open Conference at the Paco Arena in Manila.
The Cotabato Spikers meet the winless City Lions in the main game at 5:30 p.m.
Joshua Umandal, Edward Camposano, Madzlan Gampong and Rex Intal are expected to lead Cotabato, which is eyeing a share of the lead with Iloilo.
Santa Rosa City, on the other hand, is hoping to end its slump with the help of Anrie Bakil, Uriel Mendoza, Mark Kevin Montemayor and Lirick John Mendoza.
Meanwhile, Vanguard and Philippine Army square off at 3 p.m. Both have identical 1-1 win-loss records.
The Volley Hitters bowed to the VNS Griffins, 0-3, in their last outing with Vince Abrot scoring 18 points.
Leading the Army Troopers, who suffered a 1-3 loss to the Cotabato Spikers last Feb. 1, are skipper Benjaylo Labide, Patrick John Rojas, Mark Christian Ensiso, Kevin Liberato and Antonio Torres. (PNA)