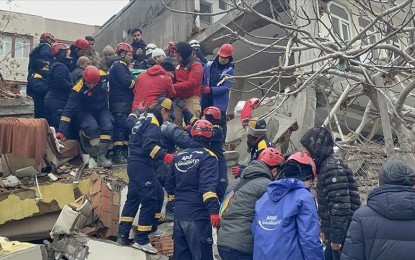 MANILA – The Turkish government on Tuesday thanked the Philippines for pledging to send a search and rescue team to Türkiye where death toll due to Monday's massive 7.8 magnitude earthquake has already reached over 3,300.
President Ferdinand R. Marcos Jr. said Manila will deploy a contingent that will conduct search, rescue, relief and other assistance to the quake-hit state.
In thanking Manila, Turkish Ambassador to the Philippines Niyazi Evren Akyol said the Turkish Embassy will help facilitate the contingent's departure "at the earliest time".
READ: OCD readying personnel, equipment for Türkiye relief mission
"The Embassy of the Republic of Türkiye expresses its sincerest gratitude regarding the decision of President H.E. Marcos Jr, concerning the deployment of a search, rescue, relief and other assistance to Türkiye. We are moved by the generosity of the Government and the People of the Philippines in our time of need," he said in a text message.
"This act of solidarity will surely strengthen the already solid bonds of friendship and cooperation between our countries," he added.
In Ankara, the Philippine Embassy in Türkiye lowered the Philippine flag at half-mast as it joined the international community in mourning the deaths after the Monday catastrophe.
"Our deepest condolences goes out to the families and loved ones of all those affected in Kahramanmaraş, Gaziantep, Hatay, Osmaniye, Adıyaman, Malatya, Şanlıurfa, Adana, Diyarbakır, and Kilis," it said.
The number of earthquake-caused fatalities in Türkiye is at 3,381 while the injured rose to 20,426, based on the latest data from the embassy.
There are no Filipino fatalities but two were reportedly wounded.
Citing the embassy as saying, Foreign Affairs spokesperson Ma. Teresita Daza on Tuesday night said the two "are ok as of now". (PNA)