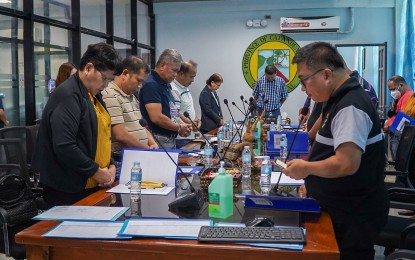 LEGAZPI CITY – The Catanduanes Development Council (CDC) has approved the proposed Provincial Commodity Investment Plan (PCIP) for Abaca (Manila hemp) which will serve as the basis for identifying necessary infrastructure and enterprise development subprojects.
In a social media post on Wednesday, the local government unit (LGU) of Catanduanes said in a meeting last Feb. 3, the CDC approved the PCIP for Abaca with Climate Risk Vulnerability Assessment (CRVA) intervention that can be funded by the Philippine Rural Development Project with counterparts from the local government units.
"PCIP for Abaca includes projects that will help fast-track the rehabilitation and restoration of the abaca plantation and facilities in the Abaca Capital of the Philippines. The plan is expected to help boost the overall status of the abaca industry in Catanduanes," it said.
Among the topics discussed as part of the plan were the PHP69-million quick response funding from the Department of Agriculture, the abaca seed bank and high-value truck nursery that will be established in Caramoran, maintenance of the 11-hectare abaca techno demo Site in Barangay Simamla, Virac town, the laboratory for abaca tissue to be installed at the Catanduanes State University with funding from the Philippine Fiber Industry Development Authority and the recently awarded PHP20-million funding from the Department of Labor and Employment in Bicol (DOLE-5) for the Tulong Panghanapbuhay sa Ating Disadvantaged/Displaced Workers (TUPAD) emergency employment program for abaca farmers in Catanduanes.
In an interview, DOLE-5 spokesperson Johana Vi Gasga said newly installed DOLE-Catanduanes provincial head and concurrent assistant regional director Imelda Romanillos, together with Senior Labor Employment officer Jomell Pasano and TUPAD program focal person Kim Zuñiga personally handed the check to Catanduanes Governor Joseph Cua on Feb. 1.
"The 3,604 beneficiaries will work for 15 days and receive a minimum salary of PHP365 per day. They will be engaged in clearing forest debris and underbrush and planting abaca trees in their farms, backyards, and plantations," she said. (PNA)