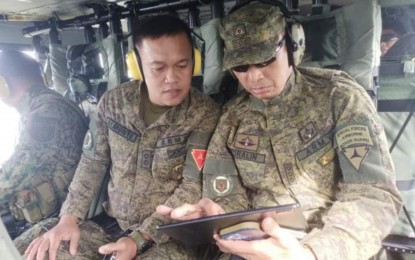 BACOLOD CITY – The three Communist Party of the Philippines-New People's Army (CPP-NPA) fighters slain during a clash in Kabankalan City, Negros Occidental province on Feb. 5 were deceived to join the armed struggle which they eventually abandoned in their deaths, a Philippine Army official said on Wednesday.
"They were deceptively recruited for the ideology they did not even understand. It paints the true color of the CPP-NPA as an inhumane and heartless terrorist group," Col. Orlando Edralin, commander of 303rd Infantry Brigade (IBde) based in Murcia town just east of this city, said in a statement.
Killed on the second day of the weekend clashes with troops of 94th Infantry Battalion in Barangay Oringao were Jomarie "Junjun/Mark" Callet, 42, of Barangay Tanlad, Tayasan, Negros Oriental; Joemarie Calumba, 40, of Barangay Oringao, Kabankalan City; and Diomedes Lasida, 47, of Barangay Pinggot, Ilog, both in Negros Occidental.
Callet and Lasida were the squad and vice squad leaders, respectively of Sentro De Grabedad Platoon of the NPA's Central Negros 2-Komiteng Rehiyon Negros, while Calumba was a squad member.
The body of Callet was already claimed by his wife, the police said.
Meanwhile, the 303IBde said in a report the troops recovered a KG9 submachine gun with six rounds of ammunition, an M14 rifle, .38-caliber and .45-caliber pistols as well as one long and two short M16 magazines during the clearing operation.
They also found a solar panel, six backpacks, five pairs of rain boots, assorted medical paraphernalia, personal belongings and subversive documents. (PNA)