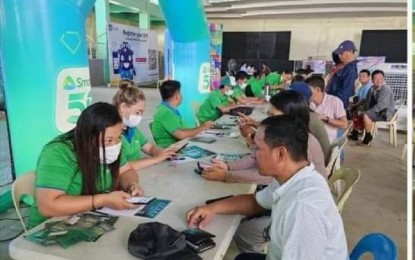 SAN JOSE DE BUENAVISTA, Antique – Senior citizens, persons with disability (PWD), and heavily pregnant women will be closely guided by personnel of the National Telecommunications Commission (NTC) and the Public Telecommunication Entities (PTEs) at the fast lanes during the first roll-out of the facilitated subscriber identity module (SIM) card registration in Pandan, Antique.
National Telecommunications Commission (NTC) 6 (Western Visayas) officer-in-charge, Director Leah Doromal, in an interview Wednesday, said to allow the provision of proper assistance and to hasten the registration of the concerned sector during their facilitated registration, personnel would be assigned by the NTC and the PTEs at the fast lanes at the Liberman Sports Complex.
"There will be personnel who will be assisting seniors, even PWDs and heavily pregnant women at the fast lane so they could register easily," Doromal said.
She said she does not have the number of personnel to assist the sector as it would depend on the number of registrants.
Doromal added that numerous senior citizens took time to register, considering it to be an opportunity for them to avail of the service, based on their previously facilitated SIM registrations.
Some seniors called the NTC-facilitated registration a big relief as they found registering their SIM cards online difficult and they were apprehensive that their data might be captured.
"The seniors, who have come during the SIM registration, were thankful that the NTC with the PTEs had assisted them," Doromal said.
The Western Visayas NTC has registered 2,977 SIMs consisting of 991 in Carles, and 983 in Lemery, both in Iloilo, and 1,003 in Madalag, Aklan.
Doromal said for Antique, they hope to reach a similar number of registrants.
"We urge those who will avail of the registration to come early and to bring their government identification card and cellular phone with the attached SIM card," she said.
The registration is also open to those from the neighboring municipalities of Pandan and the province of Aklan. (PNA)