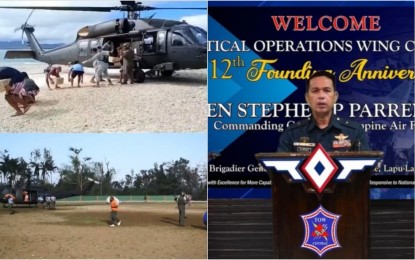 CEBU CITY – The Philippine Air Force's Tactical Operations Wing Central (TOWCEN) underscored its role of ensuring peace and development in the Visayas through integrated air operations, as the unit celebrated its 12th founding anniversary Wednesday.
Brig. Gen. Ramil Oloroso, TOWCEN's wing commander, said the PAF's unit stationed at the Mactan Island in Cebu is steady on course in accomplishing air operations and battlefield interdictions and humanitarian and relief efforts in calamity-hit areas in the central Philippines.
"We will continue to improve more on our role as main effort during focus military operations and put more into action the Philippine Air Force integrated air operations concept on humanitarian assistance and disaster response," Oloroso said in his message during a virtual ceremony.
Oloroso said airmen in the Visayas will continue to engage the public in relevant "usapang pangkapayapaan" and "usapang pangkaunlaran" (peace and development talks), especially the students in the school campuses.
He vowed to make the air force unit based at BGen Benito Ebuen-Mactan Air Base a contributor to the sustainment of the gains of the National Task Force to End Local Communist Armed Conflict (NTF-ELCAC) in the Central, Eastern and Western Visayas.
TOWCEN has been hailed for leading many air operations for rapid damage assessment, needs analysis, and humanitarian and relief efforts to the calamity-stricken localities in the Visayas, apart from its medical missions and other civic activities as well as in providing support to civilian law enforcement operations.
Under this unit are the Tactical Operations Groups 6 and 8, as well as other operational controlled organizations like the 5th Air Reserve Center, the 567th Communication Electronics Information System Squadron, and the 562nd Aerodrome Operations Squadron.
PAF commanding general Lt. General Stephen Parreño urged TOWCEN personnel to continue providing air operations supporting the mission of the Visayas Command and "promoting stability, peace and economic growth in the Visayas, especially in humanitarian and disaster response".
Parreño commended TOWCEN personnel for the sustained air operations "to promote stability, peace, and economic growth in the region". The unit also recognized some of its personnel for their exceptional achievements.
The unit traced its history from the Seabees of the 54th Naval Construction Battalion of the United States government whose job from 1945 to 1951 was to construct 10,000-foot concrete runway and support facilities on Mactan Island after World War II.
After numerous reorganizations, deactivations, and renaming, the unit was institutionalized in 2011. (PNA)