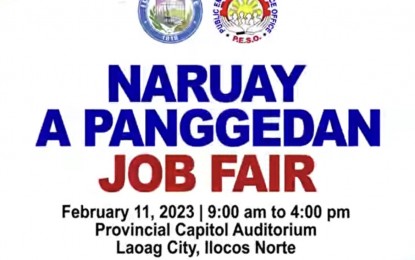 LAOAG CITY – The Ilocos Norte government through its provincial employment service office is inviting job seekers to participate in the Feb. 11 job fair as part of the province's commemoration of its 205th founding anniversary.
Based on the "Work in Ilocos Norte" database, more than 3,000 job vacancies from almost a hundred partner agencies will be available.
Anne Marie Lizette B. Atuan, manager of the Public Employment Service Office (PESO), said in an interview Wednesday that the whole-day event will be held from 9 a.m. to 4 p.m. at the provincial capitol auditorium, where job seekers will have a chance to meet employers and get hired on the spot
For the convenience of job seekers, Atuan said applicants may pre-register at https://workin.ilocosnorte.gov.ph and learn more about the job opportunities available in the province and abroad.
"With our large database of job vacancies, you will surely find something that fits your interest," she said.
Participated by local and overseas companies, top occupations needed in the province include customer service representatives, collections specialists, financial advisors, healthcare professionals, tourism workers, delivery porters, and factory workers among others.
Interested applicants are advised to wear business attire and to prepare multiple copies of their resume or curriculum vitae and 2x2 ID pictures.
The job fair is part of the provincial government's goal to boost local employment and keep the province as the least poor province in the region.
The PESO is also inviting other employers in the province to register with the Ilocos Norte government's online job portal to hire the best employees who match their needs.
Little Ilocos Norte gov't officials
Meanwhile, Ilocos Norte will be resuming its "Open Capitol" program that will give students a chance to become public officials for a day and learn about the local government's services through exhibits.
The program was halted for the past years due to the global pandemic.
Provincial tourism officer Ianree Raquel said Wednesday that the "Open Capitol" event is meant to help learners get acquainted with the programs and services of the provincial government.
"This is an opportunity for us here at the Provincial Government to touch base with the youth and show them what we do here," said Raquel as he invited everyone to visit the capitol "open house" on Feb. 13, as part of the province's 205th founding anniversary.
This year's program will feature students taking the role of "Little Ilocos Norte Government Officials" for a whole day, including a Little Governor, Little Vice Governor, and Little Sangguniang Panlalawigan Members.
The selected junior officials will even be given a chance to participate in a mock session at the session hall.
Nathaniel Matteo Dimaya Tumaneng, a Grade 6 Special Science Class learner at Shamrock Elementary School in Laoag, was selected to be the Little Governor 2023. (PNA)