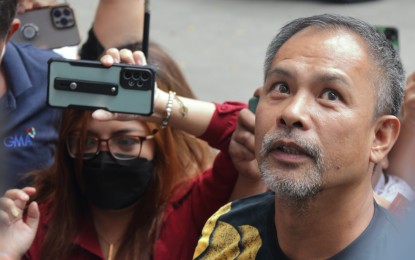 MANILA – Former Bureau of Corrections (Bucor) director general Gerald Bantag has filed his counter-affidavit before the Department of Justice (DOJ) formally disputing charges linking him to the death of newsman Percival "Ka Percy Lapid" Mabasa and inmate Cristito Villamor last year.
WIth the counter-affidavit filed by the defense, the case will now be resolved shortly by the panel of prosecution who will decide whether to file the cases before the court or dismiss it outright.
In his 42-page counter-affidavit, Bantag reiterated that the DOJ has no jurisdiction over the cases against him as these probably belong to the Office of the Ombudsman to investigate and decide whether to file the case before the Sandiganbayan.
As Bucor director general, Bantag held a salary grade 30 position, and claimed, "it is the Ombudsman which has primary jurisdiction over the cases cognizable by the Sandiganbayan and, in the exercise of this primary jurisdiction, it may take over, at any stage, from any investigatory agency of government."
Bantag also disputed the prosecution's claim that he had ordered the death of Cristito Palana Villamor, who investigators said had obtained the services of hired guns who shot Mabasa to death in Las Piñas City last October.
Bantag said the "meek lamb theory is not consistent with VIllamor's criminal record", citing that the deceased had been convicted of murder.
He added that the prosecution's claim that VIllamor managed to message his sister, Cristita Amago, of threats to his life was unlikely. "(A)t any rate did not confiscate the mobile phone of VIllamor so that he would report anything to anyone."
The former Bucor chief also noted the alleged inconsistencies in whistleblower Joel Escorial's statements and extrajudicial confessions that he fired point blank three times at Lapid from outside the Innova the latter was driving.
Bantag pointed out that there were only two bullet holes found on the window, two empty or fired cartridges and two fired bullets. "These show plain inconsistency of evidence and clear use of dissemblance or deceit by Escorial," he said.
He also said no ballistics examination report has been submitted by the prosecution and that the .45-caliber pistol allegedly used and surrendered by Escorial was not tested positive as the weapon used.
"Percy Lapid would have logically sustained three bullet wounds if Escorial shot him point blank. However, the medico-legal autopsy report does not show such fact since only its front-page has been submitted," Bantag said in his statement.
Meanwhile, defense counsel Rocky Balisong said they may opt to take the case to the Court of Appeals (CA) following the prosecution panel's decision not to inhibit. (PNA)