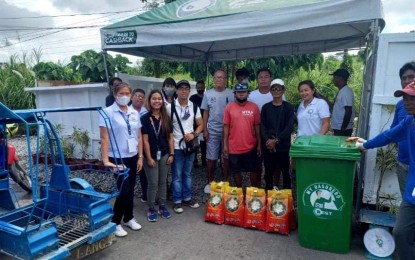 BACOLOD CITY – The city government urged residents here Wednesday to bring their recyclable waste to the local ecological community facility to earn points and win prizes or avail of incentives.
Mayor Alfredo Abelardo Benitez has been pushing for the initiative through the city's private trash contractor IPM-Construction and Development Corp. and its "Trash to Cashback" program partner bXTRA Philippines.
"Change should start within one's self to holistically solve the waste problems in Bacolod," the mayor said in a statement.
IPM Holdings Inc.'s unit, Basic Environmental Systems and Technologies Inc,. mobilizes and incentivized proper waste management for Bacolodnons to earn points from recyclable waste such as plastics, papers and metals brought to the My Basurero Eco-community Center (MBE-C).
Each kilo of recyclable garbage is equivalent to one e-raffle ticket.
The IPM-CDC has set up an MBE-C at Barangay 13, and a pick-up area at the Bacolod City Government Center grounds, where residents can use their environmental points (EPs) to redeem various items.
Cashback or EPs can be earned by creating an account at bxtra.com.ph.
The "Trash to Cashback" program engages households, communities and barangays in the proper management of their wastes through timely disposal in the proper area or location.
It also aims to empower micro, small and medium enterprises by connecting with bXTRA as partner merchants. (PNA)