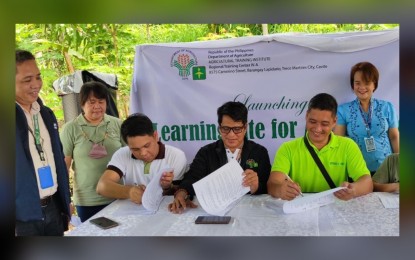 LUCENA CITY – The Agricultural Training Institute (ATI) of the Department of Agriculture (DA) has partnered with an organic farm in this city to be able to educate students on various methods of ecological crop growing.
On Wednesday, the ATI forged an agreement with Myrtle's Farm located in Barangay Ilayang Dupay, making the farm a Learning Site for Agriculture (LSA).
The MOA signing coincided with the farm's official opening to the public.
Ric Jason Arreza, Learning Site focal person of the ATI 4A (Calabarzon) said Myrtle's Farm complied with the agency's requirements, such as having diversified modes and techniques.
Owned by couple Michael and Sharon Triviño, Myrtle's Farm is now an accredited demonstration farm for students on hands-on urban organic farming.
"As LSA, this farm is authorized to share farming technology. But they must conduct capability building activities and maintain farm records to be submitted to ATI," Arreza said during a program that preceded the MOA signing.
Dr. Anna Clarissa Mariano, provincial agriculturist who represented Gov. Helen Tan, assured the Triviños of the provincial government's assistance to the farm, being a start-up business.
"Good luck to Myrtle's Farm. It's easy starting this endeavor, but you have to give extra effort in sustaining it. For you will surely face many challenges. However, Gov. Tan ordered us to assist you as farmers, every step of the way," Mariano said.
Executive assistant of Lucena City Mayor Mark Alcala, engineer Sheena Estanero, said the occasion was a long-time dream for her and the local chief executive, who, she noted, is a staunch supporter of urban farming.
"The mayor is hoping that young people would go back to farming, not necessarily with themselves tilling the land, but managing a farming business. His dream is for Lucena to be known as a 'city within a farm' with young people tending it. With organic farming, not only will we have healthy bodies but also, economic development," Estanero said.
Meanwhile, Dr. Rolando Maningas, ATI Region 4A Center director, said in his message, "All I want to do is push you and motivate you, to spread the advocacy to young people about urban and organic farming."
Myrtle's Farm has an area of 6,000 square meters and is now growing organic fruits and vegetables, the Triviño couple said. (PNA)