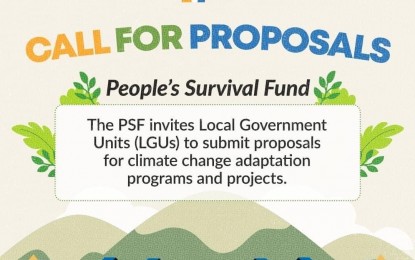 MANILA – Local government units (LGUs) have until March 31 to submit their proposed climate change adaptation projects and programs to the People's Survival Fund (PSF) Board, the Climate Change Commission (CCC) announced Wednesday.
"Local government units can now submit project proposals to access the People's Survival Fund — a grant facility for LGUs to implement local climate change adaptation initiatives," the CCC, one of the PSF Board members, said in a statement.
The CCC said LGUs may submit their climate change adaptation proposals to the PSF Board Secretariat.
LGUs must submit letter of intent; accomplished project proposal template; adaptation references such as climate risk and vulnerability assessments, CCA-DRR-Enhanced Comprehensive Land Use or Development Plans, and Local Climate Change Action Plan; and annual investment plan.
"Aligned with the objective of advancing local resilience, the Department of Finance (DOF), chairing the PSF Board, issued the Call for Proposals enabling access by LGUs to PSF," the CCC said. "Submissions shall be made through the PSF Board Secretariat in the DOF."
Proposals will be reviewed by the PSF Board and its Secretariat.
The PSF Board will rate potential recipients based on the following criteria: presence of multiple hazards (30 percent), presence of key biodiversity areas (30 percent) and poverty incidence (40 percent).
"Priority is given to those LGUs with a high presence of multiple, climate-related hazards, high poverty incidence and with present key biodiversity areas)," the advisory read.
Other documentary requirements may be required after passing the initial screening process.
The PSF, created by virtue of Republic Act (RA) 10174, serves as a special fund intended to finance the climate action programs and projects of LGUs to increase resilience of communities and ecosystems to climate change.
According to the official website of the CCC, the PSF has an allocation of at least PHP1 billion and can be augmented through donations, endowments, grants and contributions.
Under RA 10174, the PSF is managed by a board chaired by the DOF, assisted by member-agencies which include the CCC, the Department of Budget and Management, the National Economic and Development Authority, the Department of the Interior and Local Government and the Philippine Commission on Women.
Other members include representative from the academe and scientific community, business sector and non-government organizations. (PNA)