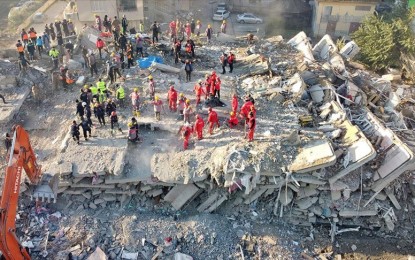 LONDON – The World Health Organization (WHO) has declared the earthquakes in Türkiye and Syria a "grade three emergency" - with a "critical 48-hour window" to save people who are trapped.
WHO Regional Director Hans Kluge told Sky News that they are channeling all resources to these two countries, saying the "key issue now is search and rescue."
WHO spokesperson Margaret Harris also told Sky News, "Each disaster is different. And of course, the work going on to get people is extremely important."
Harris said the scale of the losses from both countries will not be known for "quite some time."
"And the important thing is to prevent people who've injured or have been affected by this from also dying," she added.
At least 7,108 people were killed and 40,910 others injured after two strong earthquakes on Monday jolted southern Türkiye, the country's disaster agency said on Wednesday.
The magnitude 7.7 and 7.6 earthquakes, centered in the Kahramanmaras province, struck 10 provinces and affected more than 13 million people.
Several countries in the region, including Syria and Lebanon, felt the strong tremors that struck Türkiye in the space of less than 10 hours. (Anadolu)