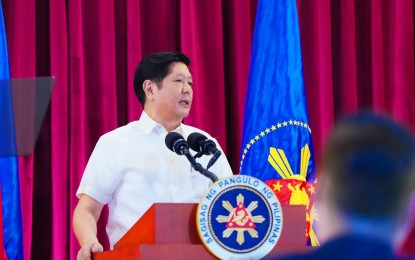 MANILA – The Philippines and Japan have no formal talks yet on a possible visiting forces agreement (VFA), President Ferdinand R. Marcos Jr. said Wednesday.
Marcos made this remark after the Department of National Defense announced that it is eyeing a VFA with Japan, to make it the third nation with which the country has the type of agreement next to the United States and Australia.
Despite the lack of dialogue between the two countries on the VFA, Marcos cited Japan's assistance in helping the Philippine Coast Guard (PCG) in terms of capacity-building which includes providing equipment.
"Yung support nila sa Coast Guard, matagal na 'yan (They have long been supporting the Coast Guard), that kind of cooperation has been ongoing. Siguro sa kanilang palagay (Perhaps to them), the next step is to the improvement, rehabilitation in Subic, para nga sa Coast Guard (for the Coast Guard)," Marcos said in an interview with reporters while on board a flight to Japan.
Last month, the government submitted a proposal to Japan for building a PCG facility in Subic Bay.
Former Department of Defense officer-in-charge Jose Faustino Jr. said both countries would like to have a VFA so that Japanese troops can conduct exercises with their Philippine counterparts.
The PCG announced its plan to purchase additional ships from Japan that will complement the BRP Teresa Magbanua (MRRV-9701) and BRP Melchora Aquino (MRRV-9702), its biggest and most advanced assets.
Marcos, likewise, underscored the importance of boosting defense cooperation with the country's long-time ally.
"Naturally, the reason behind all this is they would like to have more patrols along… South China Sea para naman (so that) we can assure the freedom of passage," he said.
He added that fostering stronger cooperation with Japan will also help the country achieve its goal of continuously modernizing the Armed Forces of the Philippines (AFP).
"So, this is a new element to our relationship because we're now talking about the security of the region. So being, of course, all interested in the same thing, i.e., security in the region, I think cooperation is not a bad thing," he said.
Marcos is currently in Japan for a five-day official visit from Feb. 8 to 12 to forge closer political ties, stronger defense and security cooperation, as well as lasting economic partnerships.
More agri-biz investments
Meanwhile, Marcos expressed optimism about attracting more agri-business deals from Japan.
"Well, number one, that opens up hindi lamang (it won't just be) the usual exchange of technology, but that's an important part of it, but also investment in agriculture and hopefully opening markets in Japan for our agricultural products," he said, referring to key deals expected to be signed between the Philippines and Japan, which include an agreement in agricultural cooperation.
He said he would be holding meetings with various Japanese officials and business leaders to seal more investments and forge business relations.
"So that's a very wide-ranging discussion. So yes, we hope to do a lot in that regard para ma-accelerate 'yung ating (to accelerate our) agricultural development," he added.
Japan is the only country with which the Philippines has a bilateral free trade agreement (FTA) called the Japan-Philippines Economic Partnership Agreement (JPEPA).
In 2021, Japan was the Philippines' second-largest trading partner as well as the third-largest export market and the second-top source of imports. (PNA)