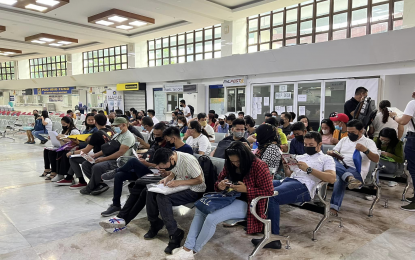 MANILA – The Department of Migrant Workers (DMW) is set to open a Japan Desk to ensure the fast processing of overseas Filipino workers (OFWs) as Japanese employers have expressed their intention of hiring more skilled Filipino workers.
In a statement issued Thursday, DMW Secretary Susan 'Toots' Ople bared that more than 80 Japanese employers have so far made an offer to hire more Filipino skilled workers.
Ople, who is currently in Japan as part of the official delegation of President Ferdinand R. Marcos Jr., said that Japanese employers prefer Filipino workers in their companies because of their excellent work ethics and friendly disposition.
"The general sentiment among Japanese employers was that Filipino workers brightened up their workplaces and were highly reliable and trainable," she said.
The Japanese employers attended a consultation meeting with organized by the Migrant Workers Office in Osaka headed by Labor Attaché Elizabeth Estrada.
This was followed by a dialogue with workers employed in Japan under the Technical Internship Training Program (TITP) and Special Skilled Worker (SSW).
The TITP aims to accept workers from various countries to acquire industrial and vocational skills in Japan to contribute to the improvement of their occupational lives when they return to their home countries.
The SSW, meantime, allows the Japanese government to recruit qualified foreign workers in order to fill employment quotas in 14 industrial fields.
Ople, who attended the Osaka meetings, was assured by Filipino workers in Japan, that they are being treated well, and would prefer to continue working in Japan if they will be allowed by the Japanese government and their employers.
"Mababait po ang aming employers. Minsan, sila pa nagdadala ng pagkain para sa amin (Our employers are kind. There are even times when they would bring food for us)," an employee of SuperCourt told Ople.
Due to the positive feedback and the Japanese employers' clamor for more Filipino skilled workers, Ople said a Japan desk will be established in the Office of the Secretary to help fast-track the needs of both Japanese employers and Filipino trainees.
"We want to build stronger relations with Japanese employers and the Japanese government so that the Philippines can be the number one source of skilled workers in Japan," Ople said.
Workers in Japan receive a monthly salary ranging from 130,000 yen, which is equivalent to about PHP54,548 for entry level TITP trainees, and up to 900,000 yen (PHP377,640) for specialized positions for highly skilled professionals.
However, she noted that one of the major challenges faced by Filipino workers is hurdling the language proficiency test while already working in Japan.
Ople said the Preparatory Japanese-Language Training (PJLT) program under the existing Japan-Philippines Economic Partnership Agreement (JPEPA) is addressing this need.
The PJLT is a language learning intervention mechanism that requires candidates to undergo a 6-month intensive training on Japanese language basics.
This Japanese language proficiency program allows a worker to qualify under the Specified Skilled Worker (SSW) program where he must either pass the necessary Japanese language exams and the skills exam corresponding to his chosen industry, or have practical experience in the industry in the form of previous technical intern training experience, with a minimum of three years of technical intern training.
"We will look into these bottlenecks and obstacles and try to untangle them one by one. Japan has proven to be a reliable partner in overseas employment," Ople said. (PNA)