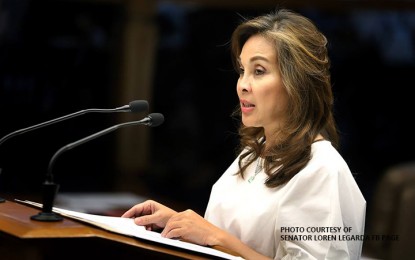 MANILA – Senate President Pro Tempore Loren Legarda has pushed for an enhanced preservation of the Philippines' cultural assets through increased participation and involvement of local government and communities in cultural mapping activities.
"To further strengthen heritage conservation in our country, this bill seeks to mandate local government units (LGUs) to conduct a cultural heritage mapping of their areas for both tangible and intangible, and natural and built heritage," Legarda said as she sponsored Senate Bill 1841 on Wednesday.
"The institutionalization of cultural mapping is sought as a way to make heritage an inclusive tool for local and national development. In particular, cultural mapping employs a grassroots approach that empowers local communities to identify and assign cultural value to properties that are important to them," the chairperson of the Senate Committee on Culture and Arts said.
Under SB 1841, the National Commission for Culture and the Arts (NCCA), together with other cultural agencies, are delegated to provide technical and financial assistance to LGUs to comply with the cultural mapping mandate.
The LGUs, meanwhile, are mandated to submit Local Cultural Inventories (LCI), which will be included in the criteria to qualify for the Seal of Local Good Governance.
As of December 2022, 980 of the 1,715 LGUs have complied with the submission of LCIs, while the total number of properties registered with the Philippine Registry of Cultural Property (PRECUP), including those registered by the cultural agencies, is 10,385.
Legarda cited that Antique, her home province, recently completed its cultural mapping in partnership with the NCCA, the University of the Philippines (UP) in Visayas, the Department of Education (DepEd), culture and history experts, and the Antique provincial government resulting in a 21-volume compendium.
"Especially when threatened by climate change and biodiversity loss, our heritage values must be protected as a source of our connectedness and resilience, to help us get through the direst times in unison using the best available means that promote our interrelation," she said.
"Cultural values are not fluff, nor mere luxury. They are not soft and nor are they the first to be sacrificed in the face of trial. They are, in fact, our bridge to each other and to the other side of these twin crises," Legarda said. (PNA)