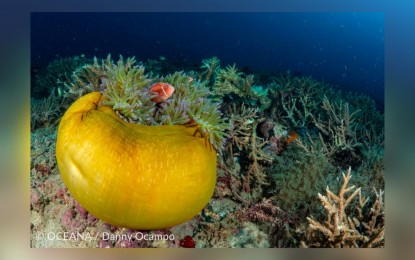 TACLOBAN CITY – The environmental group Oceana has welcomed the filing of Senate Bill 1690 to declare Panaon Island as a protected seascape under the Expanded National Integrated Protected Areas System (ENIPAS) Act.
In a statement Thursday, Oceana said the campaign for the protection of Panaon Island gets a "formidable boost" in the Senate.
"We can now see the fulfillment of the desire of the people of Panaon Island to protect this ecologically fragile island in Southern Leyte that is acknowledged as among the priority reefs that will highly likely withstand the devastating impacts of climate change," Oceana Vice President Gloria Estenzo Ramos said.
The bill or the "Panaon Island Protected Seascape Act of 2023," authored by Senator Cynthia Villar, emphasized that despite the presence of extensive coral reefs and vibrant fish communities, the abundance and biomass of commercially important species show signs of overfishing and other anthropogenic threats.
Panaon Island is identified as part of the 50 priority reefs in the world that will highly likely withstand the devastating impacts of climate change, hence, the urgent need for protection and conservation.
It is a small island in Southern Leyte province that lies south of Leyte, separated from Dinagat to the east, and Mindanao to the southeast by the Surigao Strait.
At the House of Representatives, the same efforts to protect the seascape of the island are also being pushed by Southern Leyte 2nd District Rep. Christopherson Yap and 1st District Rep. Luz Mercado.
A consolidated bill (House bills 4095 and 3743) pending at the House Committee on Natural Resources, outline the parameter of the protected seascape's coverage in the towns of Liloan, San Francisco, Pintuyan, and San Ricardo, the mechanisms for administration, the prohibited acts and penalties, and the funding requirements to sustain its protection.
"We are running against time in protecting the biodiversity-rich areas in our country. These are our shield against the devastating impacts of climate change. Aside from that, the island is a rich source of seafood and marine resources that the people of Panaon and the other parts of the country can depend on for their food and nutrition," Ramos said.
Under SB 1690, the proposed measure mandates the formulation of a management plan that will promote the adoption and implementation of innovative, sustainable management techniques including, when biodiversity management, community organizing and development, socio-economic and scientific research, site-specific policy development, climate change adaptation and mitigation, disaster risk reduction and management, solid waste management, and gender and development.
It has been observed that the potential causes of large-scale habitat deterioration, such as the crown-of-thorns starfish, trash, and illegal fishing activities, could dramatically change the island's coral reef condition.
Oceana is an international advocacy organization dedicated to protecting the world's oceans. (PNA)