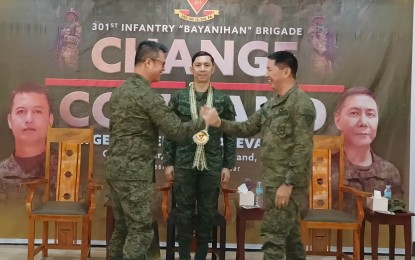 ILOILO CITY – The Philippine Army on Thursday said recruitment by the Communist Party of the Philippines-New People's Army (CPP-NPA) could intensify now that movement restrictions due to the health pandemic have eased up.
Philippine Army Visayas commander, Lt. Gen. Benedict Arevalo, said they are now assessing and analyzing the effects of the pandemic in terms of the conduct of recruitment.
"We feel that Covid-19 also was able to slow down their recruitment," he said.
Arevalo said roughly the strength of the CPP-NPA in Panay island is between 200 to 250.
Apart from the pandemic, Arevalo also credited the efforts of the Regional Task Force to End Local Armed Conflict (RTF-ELCAC) in the drop of the CPP-NPA recruitment.
With the slowdown in recruitment, the PA Visayas commander ordered his men to fast-track the neutralization of the armed component of the communist movement.
"Let us not wait for our enemy to die of old age, let us not wait for them to just fade away. We really have to exert pressure on our operations and be able to convince them to go back to the folds of the law if not be captured," he said.
Visayas-wide there are nine guerrilla fronts; four are within the area of responsibility of the 3rd Infantry Division (3ID), where the 301st Brigade belongs, and five are in the 8th Division in Samar and Leyte provinces, Arevalo added.
The four guerrilla fronts under the 3ID have been weakened and longer capable of launching camp and detachments attacks. With a strength between 200 to 250, they are into target liquidation and assassination such as in some parts of Negros island, he said.
Arevalo also attributed the weakening of the rebel group to the military operations in the municipality of Miagao, Iloilo province back in 2021 when at least nine NPA members including a high official of the Southern Front (SF) operational command were killed.
Apart from anti-insurgency operations, Arevalo also reminded the government troops not to let their humanitarian assistance and disaster response, especially since Visayas is prone to disasters.
Arevalo was in Iloilo to preside over the change of command ceremony between outgoing 301st Infantry Brigade commander B/Gen. Marion R. Sison and acting commander Col. Michael G. Samson at Camp Adriano D. Hernandez in Dingle.
Col. Samson, in an interview, said he will try to asses and evaluate areas that should be improved as he expressed confidence that his predecessor has done a lot of accomplishments.
Sison, meanwhile, will assume as assistant commander of the 3ID based in Jamindan town, Capiz province. (PNA)