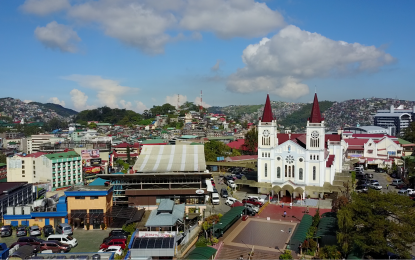 BAGUIO CITY – The city government has endorsed to the National Commission for Culture and the Arts (NCCA) the first volume of its cultural mapping book that identifies cultural properties here.
Jordan Habbiling, information officer of the Baguio City Council, in a message on Thursday said the first phase of the city's cultural mapping project was made possible by the City Planning and Development Office in collaboration with specialists from the NCCA.
Of around 600 cultural properties in the city, he said 216 have already been documented in the first volume and classified into six categories that include, tangible immovable heritage with 77 sites; tangible movable heritage with 28 sites; intangible cultural heritage with 48; natural heritage with 42; significant personalities with five, and cultural institutions with 16 sites.
The cultural mapping process was done with the help of a cultural mapping toolkit designed by the NCCA.
"These 216 artifacts were presented and validated by the community in Happy Hallow Barangay in 2022. The barangay also received a copy of the book to be used by the Council of Elders and teachers in educating the residents," he said.
Happy Hallow is the only ancestral domain in the city.
Donna Tabangin, City Planning and Development coordinator, said the project aims to raise awareness about the importance of safeguarding living heritage, both tangible and intangible.
She said they are studying the registry of cultural properties contained in the book to help the city government determine its direction in preserving cultural heritage.
The succeeding volumes will still be produced to map the rest of the identified artifacts.
NCCA Commissioner Arvin Villalon, in an earlier online forum, assured that the inclusion of a particular private structure in the list of mapped cultural properties will only recognize its historical value but will not prevent the owner from developing it or changing its features.
"[Cultural mapping] is not inimical to the interests of development. But what the heritage law (Republic Act No. 1066) presupposes is that at least there is a basis for listing so that we become more careful and study closely the impact of our actions on our heritage properties, and practices." Villalon said.
The Baguio City Arts and Crafts Collective, Inc., which was formed following the city's inclusion as a United Nations Educational, Scientific and Cultural Organization (UNESCO) creative city for arts and crafts, has added to its plan the cultural mapping of cultural sites that would later on also be added as a tourism product.
The National Historical Commission of the Philippines has identified and marked several structures here for their historical significance. Among these is the Baden Powell Hotel at the corner of Governor Pack Road and Session Road, where the First Philippine Commission conducted its "session," which is where Session Road got its name. (PNA)