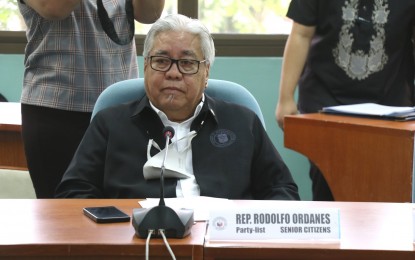 MANILA – A party-list lawmaker on Thursday asked the House Committee on Appropriations to support the immediate passage of a measure seeking to grant additional benefits for Filipino centenarians.
Senior Citizens Party-list Representative Rodolfo Ordanes made the call after his panel, the House Special Committee on Senior Citizen Affairs, approved the bill that will expand the scope of the Centenarian Act or Republic Act 10868.
Ordanes said that under the bill, those who reach the age of 101 years old shall receive cash gifts worth PHP1 million on their birthday, as well as a letter of felicitation from the President.
The bill also provides that all Filipinos who reach the age of 80, 85, 90, and 95 years old shall receive PHP25,000 and a letter of felicitation from the President.
Meanwhile, under the existing law, the current amount given to Filipino centenarians is PHP100,000.
He recalled that the Centenarian Act was passed 7 years ago as a form of recognition of the "innumerable contributions" of senior citizens to the country and as a way for the country to "give back to them as they reach the twilight of their lives."
"Under this law, we gave our senior citizens a letter of felicitation from our government and an ample cash gift that they can use to maybe treat their grandchildren to celebrate their century-old tenure on this earth or as a way for them to augment their expenses that have significantly increased due to their old age," he said.
The National Commission of Senior Citizens shall be the lead implementing agency. (PNA)