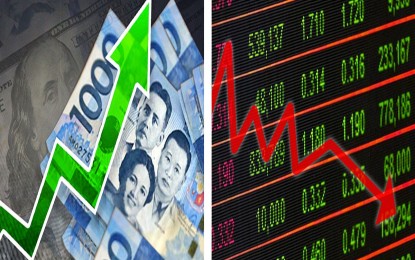 MANILA – Local shares fell on Thursday as investors engaged in profit taking, expecting a hawkish statement from the United States Federal Reserve System and softer growth of the country's manufacturing sector.
The Philippine Stock Exchange index (PSEi) declined by 1.16 percent, or 80.29 points to 6,842.79, with all shares also decreasing by 0.86 percent, or 31.51 points, to 3,643.50.
Rizal Commercial Banking Corp. (RCBC) economist Michael Ricafort said the decline in the local bourse is "consistent with the overnight declines in the US stock markets".
Ricafort said Thursday's closing remains one of the highest finishes since Aug. 22, 2022 despite the day's losses.
Regina Capital Development Corp. head of sales Luis Limlingan said "Philippine equities retreated after foreign investors returned their focus to the latest batch of corporate earnings, a day after Fed Chair Jerome Powell's remarks that inflation is coming down, but the US central bank may not necessarily be ready to slow or stop rate increases."
All counters ended in the negative territory, with the biggest shedding in the Industrial index which plunged by 169.70 points to 9,744.61.
This was followed by Holding Firms, down by 65.88 points to 6,612.26 points; Property, 38.61 points to 2,993.22; Mining and Oil, 25.64 points to 11,409.03; Financials, 15.12 points to 1,824.29; and Services, 5.88 points to 1,726.50.
Total volume of trade reached 940.9 million shares valued at PHP5.62 billion.
Decliners outnumbered advancers at 112 to 81, with shares of 45 firms remaining unchanged.
Meanwhile, the peso strengthened Thursday against the US dollar, closing at 54.45 from the previous day's 54.80.
The local currency opened stronger at 54.86 from Wednesday's kick-off at 55.
The currency pair traded between 54.44 and 54.95, bringing the average level for the day at 54.74.
Volume of trade increased during the day to USD1.37 billion from USD1.15 billion. (PNA)