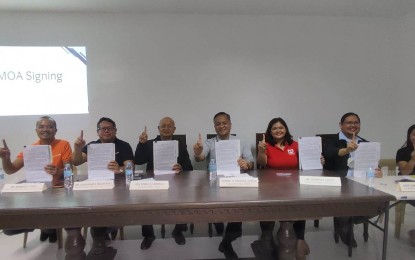 LEGAZPI CITY – The Departments of Science and Technology (DOST) and Social Welfare and Development (DSWD), the municipality of Bulan and World Vision have signed a memorandum of agreement (MOA) as partners for the enhancement, promotion and product development of sardines in the province of Sorsogon.
In an interview on Friday, Engr. Sandro Noguera, DOST Sorsogon director, said through the MOA signed on Wednesday by agencies involved and the Padaraw Fish Product Producers Association, Inc. (PFPPAI), they agreed to pool their efforts and resources for the implementation of the project "Enhanced Process and Quality of Sardines Making" in Bulan town, Sorsogon.
"The project intends to enhance the technological capability of PFPPAI in producing bottled sardines using "lawlaw' (herring), which is abundant in the municipality," Noguera said.
He said DOST Bicol's interventions include equipment (top-loading autoclave, industrial upright freezer, burner, digital salinometer, among others), to improve process and product quality, as well as physicochemical, proximate/nutritional analysis, commercial sterility, heat penetration, and histamine analysis to comply with Food and Drug Administration (FDA) requirements for a license to operate (LTO) and certificate of product registration (CPR).
"The MOA aims to provide appropriate technology on sardines processing, to promote sardines making as a permanent source of livelihood, improve the current quality and process of sardines products, to increase the economic gain from the abundant raw material in the locality, encourage compliance to food safety requirements and to create direct and indirect jobs during the commercialization stage of the project in the municipality," he said.
Noguera added that the association would receive equipment, technology, and training from DOST, marketing support and monitoring from World Vision, seed capital fund, monitoring, technical assistance from the DSWD Sustainable Livelihood Program (SLP), and support in the purchase of equipment and project implementation from the local government unit of Bulan. (PNA)