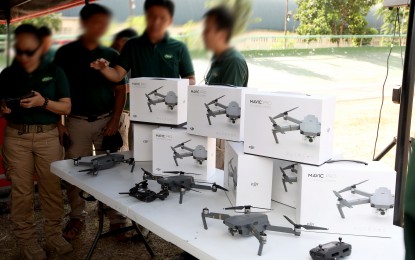 MANILA – The private use of Remotely Piloted Aircraft System, commonly known as drone, must be regulated to make sure it is not used for illegal purposes.
Senator Raffy Tulfo has filed Senate Bill 1777 or the Drone Regularization Act as the robotic device can be a space hazard and if wrongly operated, may pose serious danger.
"These robots are unmanned aerial vehicles which are especially advantageous in reaching isolated areas and modern drones are remarkably easy to fly with the advances brought about by technology," read the bill's explanatory note. "However, drones can also be dangerous. Since it is now widely used for recreational purposes, it raises regulatory concerns."
Under the bill, the Civil Aviation Authority of the Philippines (CAAP) is authorized to classify drones into types for the purpose of regulation whether they are for private persons, commercial use, profession for the sake of profit and hobbyist use.
They are required to periodically register with CAAP and apply for a permit to operate.
Applicants are required to undergo trainings and get a drone insurance.
Current rules state that if flying a drone weighing more than 7 kilograms (15 pounds), a CAAP certificate is required; drones are allowed only during daylight hours, in good weather and within visual line of the operator; and disallowed over densely populated areas, such as schools or markets.
Under Tulfo's measure, unregistered drones shall be confiscated while operating a drone for commercial purposes without a permit shall result in confiscation and a fine of not less than PHP50,000 but not more than PHP100,000.
Any violation of the general safety regulations and restrictions on drone usage shall result in a fine between PHP100,000 and PHP500,000. (PNA)