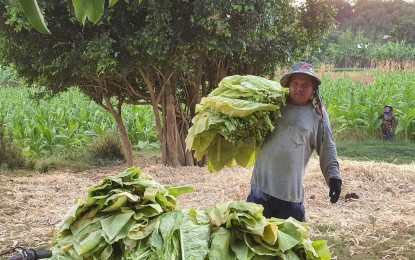 MANILA – The government must make sure that it is resilient to internal or external shocks with or without the Regional Comprehensive Economic Partnership (RCEP) free trade agreement, according to Senator Francis Escudero on Saturday.
The RCEP is the world's largest trade and investment agreement among the 10 countries of the Association of Southeast Asian Nations and five of its major trading partners -- Australia, China, Japan, South Korea and New Zealand.
In 2021, the region contributed about 29.3 percent of global trade flows and more than a quarter of foreign direct investments
In a statement, Escudero urged the executive and the legislative to work together to end the government's agriculture deficit disorder as reflected in the flat farm sector growth inflicted by Covid-19 pandemic.
"In 2022, ang (the) value of crop, livestock, poultry, fisheries production na (of) PHP1.756 trillion, computed in 2018 constant prices, ay mas mababa pa sa (was lower than the) PHP1.086 trillion production noong (in) 2018," he noted.
"Kaya naman tumaas ng 28 percent ang presyo ng gulay, 25 percent ang presyo ng isda, 30 percent ang sa karne sa loob ng apat na taon (That's why, there was a 28-percent increase in vegetables, 25 percent in fish and 30 percent in meat in four years)," he added.
The Senate continues to conduct hearings on the RCEP treaty for ratification, which Escudero insists needs careful review to ensure that stakeholders in the country's agricultural sector, especially farmers and fisherfolks, are protected.
The Presidential Communications Office previously said that President Ferdinand R. Marcos Jr. was pushing for the RCEP ratification while Senate President Juan Miguel Zubiri expects they will ratify the agreement within the first quarter of the year.
The RCEP was signed by the Philippines in November 2020.
It entered into force for other signatory countries on Jan. 1, 2022 but sans the Senate ratification, it remains unimplementable.
In June 2020, the Philippine Statistics Authority released its 2018 study showing that poverty incidence was highest among farmers (31.6 percent), fisherfolk (26.2 percent) and individuals living in rural areas (24.5 percent).
The Department of Trade and Industry expects the RCEP to generate a 10.47-percent increase in the country's exports and a 2.02-percent increase in real gross domestic product.
"As I have been saying, nobody wants to be left behind in a global economy, but we must also be certain that in entering into more trade deals, we do not leave behind the most vulnerable sectors of our local economy. Growth must always be inclusive, or it will only perpetuate the cycle of poverty," Escudero said. (PNA)