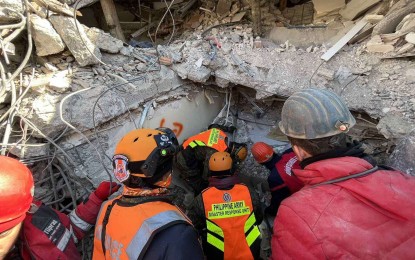 MANILA – The Philippine Inter-Agency Humanitarian Contingent (PIAHC) in Türkiye gave quick orientations to Turkish local volunteers on international standards of search and rescue.
This came after Filipino rescuers saw some local volunteers using backhoes in their search.
"After observing that locals use backhoes indiscriminately without due regard for safety procedures in locating victims, the PIAHC gave quick orientations on internationally accepted principles of search and rescue," the Office of Civil Defense (OCD) said in an update Sunday.
The Philippine team is currently deployed in Adiyaman which is four hours away by bus from the city of Adana, Southern Türkiye.
It also added that these local volunteers, most of whom have no training and equipment, were given a quick look and briefing on the PIAHC's equipment.
PIAHC is an 82-member team that is composed of the following personnel, 30 from the Department of Health, 33 from the Armed Forces of the Philippines (21 from the Army's 525th Engineer Combat Battalion and 12 from the 505th Search and Rescue Group), nine from the Metro Manila Development Authority, eight from the Subic Bay Metropolitan Authority, and two from the OCD.
The team brought with them 13,412 kg of cargo consisting of medical supplies and equipment, field hospital tents, personnel shelters, search, rescue and retrieval equipment, food rations, and engineering tools and equipment for collapsed structure search and rescue.
The OCD also said the PIAHC has two types of teams and these are the so-called "Type 1 Emergency Medical Team" which provides outpatient initial emergency care of injuries and other significant health care needs and the "Composite Medium Urban Search and Rescue Team" which is deployed for all collapsed or failed structures, includes search and rescue operations for heavy timber, reinforced masonry construction or steel frames.
The Department of National Defense and OCD also procured 11,205 blankets, 5,000 bonnets and 420 gloves for donation to the earthquake victims.
"Deployment of the second batch of PIAC is being studied and planned, whether as an addition or replacement to the first batch," the OCD said.
It also said that government agencies and local government units have expressed their intent to send members for the next batch of the Philippine contingent for the relief and recovery operations in Türkiye.
"These details of these proposals are being finalized to comply with the standards set by the International Search and Rescue Advisory Group (INSARAG) under the United Nations," it added. (PNA)