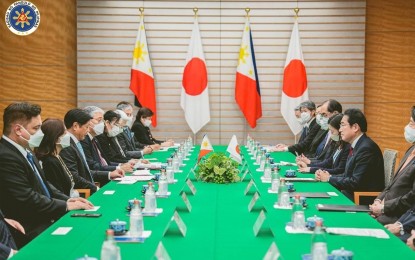 MANILA – President Ferdinand R. Marcos Jr. is open to the idea of a Visiting Forces Agreement (VFA) with Japan if it does not increase "tensions" in the South China Sea.
"If kung talagang makakatulong (If it really helps), I don't see why we should not adopt it…. If it is appropriate, if it does not constitute danger of increasing tensions, then that might be useful for the Philippines," Marcos said in a media interview onboard a plane en route to Manila from Tokyo.
He said the Philippines must be careful to avoid appearing "provocative."
"Imbis na pinapakalma natin ang sitwasyon sa South China Sea, ang ginagawa natin, mas magiging mainit, 'di ba (Instead of calming down the situation in the South China Sea, it might become worse)? That would be one," he added.
Marcos likewise recognized that the VFA may help protect Philippine maritime territory and Filipino fisherfolk.
"Ang iniisip ko lang, 'yung ating mga fishermen kailangang maprotektahan, kailangang maliwanag na tayo sa Pilipinas [ay] talagang… we are patrolling our waters and making sure that it is well-recognized na 'yan ang talagang… maritime territory talaga ng Pilipinas 'yan (I'm just thinking, 'Our fishermen need to be protected, it needs to be clear that we in the Philippines [are] really... we are patrolling our waters and making sure that it is well-recognized that this is really... the Philippines' maritime territory')," he said.
Marcos earlier said the Philippines would review a proposed trilateral defense and security deal with two of its closest allies -- the United States and Japan.
"It is something that we certainly are going to be studying upon my return to the Philippines. I think just part of the continuing process of strengthening our alliances because in this rather confusing, and I dare say dangerous situation, that we have, I'm not talking only about the South China Sea, I'm not only talking about the Indo-Pacific region but, of course, there is a conflict still ongoing in Ukraine and the rather disturbing effects that it has all around the world," he said.
The Philippines, China and several other littoral states have overlapping claims in the SCS.
In a 2016 arbitral ruling, the Hague-based Permanent Court of Arbitration (PCA) ruled that Beijing's nine-dash line, a demarcation that covers almost 80 percent of the South China Sea, is illegal. China repeatedly ignored the PCA ruling.

RCEP push
Meanwhile, Marcos maintained his push for the ratification of the Philippines' participation in the Regional Comprehensive Economic Partnership (RCEP), brushing off criticism that it may affect the country's agricultural sector.
"I don't see the logic in that. Actually it will be the contrary because… right now kung wala tayo sa RCEP, hindi natin ma-access ang kanilang mga markets. Iyong mga – lalo na 'yung mga supply chain na available na ibinigay ngayon sa ASEAN [Association of Southeast Asian Nations] (if we're not part of the RCEP, we won't have access to their markets, especially the supply chain being offered to the ASEAN)," he said.
He said participating in the RCEP would allow the country to further strengthen its agricultural value chain.
"It opens more trade, more trade. And lagi kong sinasabi 'di ba walang yumaman na bansa kung hindi dahil sa trade at kailangan (I always say isn't there a country that gets rich if not because of trade and) we have to involve ourselves in that," he added.
However, Marcos clarified that he is not lobbying for RCEP in Congress, but waiting for it to be ratified.
"So we are leaving ourselves out there, isolating ourselves from the free trade zone that ASEAN is. So sayang naman 'yung opportunity (It would be a wasted opportunity). That's why I think RCEP will be a good thing," he said.
The Philippines is the only nation in Southeast Asia that has yet to ratify the RCEP.
RCEP is a free trade agreement (FTA) between the 10 member states of the Association of Southeast Asian Nations (ASEAN) and its five FTA partners: Australia, China, Japan, New Zealand and the Republic of Korea.
The Senate is currently deliberating on RCEP, with hearings currently at the sub-committee level.
Senate President Juan Miguel Zubiri earlier said the Senate aimed to ratify the RCEP trade agreement within the first quarter of the year. (PNA)