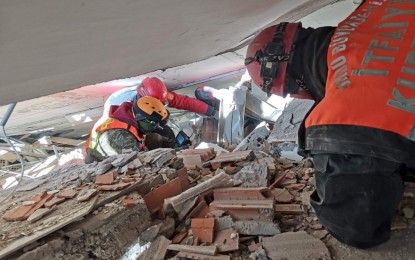 MANILA – The Turkish government will no longer accept a second contingent from the Philippines to help in ongoing operations following the magnitude 7.8 earthquake that rocked southern parts of the country on Feb. 6.
"Yesterday (Sunday) we got information that the Turkish government will no longer accept (a) second contingent coming from us, this was relayed to me by the SND (Secretary of National Defense officer-in-charge Senior Undersecretary Carlito Galvez Jr.) that's why hindi na nag-prepare ng (we no longer prepared for a) second contingent," Office of Civil Defense (OCD) spokesperson Assistant Secretary Bernardo Rafaelito Alejandro IV said in a media briefing Monday.
Asked for the reason of the Turkish government, Alejandro said the so-called element of "life-saving time" has already lapsed.
"Lumampas na (life-saving time) na so kokonti na lang yun makukuhang live victims (It has already lapsed so we can only expect few live victims that can be rescued)," he said.
The Turkish government, however, said the Philippines can send or donate non-food items, he said.
The Philippine contingent is expected to stay in the quake-hit nation for two weeks.
"This is (their) fourth day of operation, so tingnan natin kung anong progress (we will wait for developments, so it's too early to tell kung ie-extend yung two weeks nila (if their tour of two weeks will be extended)," he added.
Asked whether the Philippines will respond to Syria's calls for assistance, Alejandro said they are now coordinating with the Department of Foreign Affairs (DFA) and are waiting for their formal announcement.
He added that goods that could be sent to Syria are now prepared.
On Monday, the Philippine National Police (PNP) said it has a 53-member team on standby and is ready for deployment to Türkiye.
PNP chief Gen. Rodolfo Azurin Jr. said the team includes some police officers from the Cordillera region, who were deployed during the 1990 killer earthquake that jolted Baguio City and other parts of Luzon.
Reports showed that the quake killed 29,605 people in Türkiye and more than 3,500 in Syria.
In Türkiye, around 80,000 people were hospitalized while more than 1 million are in temporary shelters.
Meanwhile, the OCD said that Philippine Inter-Agency Humanitarian Contingent (PIAHC) in Türkiye has already set up its field hospital and base camp as of Feb. 11.
The total number of collapsed buildings assessed by the PIAHC urban search and rescue team has reached 20.
"The PEMAT (Philippine Emergency Medical Assistance Team) field hospital started operations on 11 February 2023, catering to ambulatory cases and referral of cases requiring hospitalization. Patients served by the PEMAT: a. 11 February 2023: 14 b. 12 February 2023: 41," the OCD said.
It added also that one of the major challenges facing the team is the extreme weather conditions, which also affects their equipment.
Interpreters are also present in their area of operations to help address the language barrier.
"Team is mindful about the medicine supply they brought and is considering adding more. The Turkish government is very thankful because the Philippine Contingent was the first medical team that responded four days after the incident," the OCD said.
It also added that the team provides the necessary assessment of victims in the area.
Vitamins as well as prescription medicines, depending on their needs, are provided to the patients.
Assistance from faithful
Meanwhile, the Catholic Church in the Philippines would hold a second collection in Masses on Feb. 19 to assist the victims of the deadly quake that hit Türkiye and Syria.
"We would like to prompt and inspire generosity from you to support our Alay Kapwa Solidarity Appeal for Caritas Turkey and Caritas Syria," said Caritas Philippines president Bishop Jose Colin Bagaforo in a letter addressed to all bishops and archbishops.
"We request all dioceses to have a second collection during Sunday masses (February 19, 2023) for this intention," he added.
The Catholic prelate said they intend to send the donations by the end of the month.
For those who would to donate, the people may deposit their donations to the Bank of the Philippine Islands in the account name "CBCP Caritas Philippines Foundation, Inc." with account number 4951-0071-08.
Bagaforo also asked donors to send a copy of the deposit slips via e-mail to caritasphilip[email protected](with Lloyd Caliwan and Ferdinand Patinio/PNA)