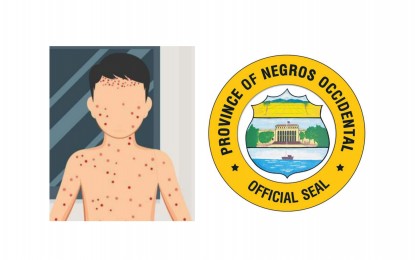 BACOLOD CITY – Negros Occidental Governor Eugenio Jose Lacson said on Monday he will support the recommendation of the Provincial Health Office (PHO) to declare a hand, foot and mouth disease (HFMD) outbreak after local cases rose by 6,300 percent.
"That's really very alarming. They are in a better position to advise the declaration of an outbreak. They are experts. I would have to follow their judgement," he told reporters.
In the list of actions taken by the PHO's Provincial Epidemiology and Surveillance Unit last week, it provided recommendations to declare outbreaks in local government units that have reached the criteria for epidemics in HFMD.
When an outbreak is declared, Lacson said the city and municipal health units should exert more effort to inform their respective constituents about the contagious illness.
"We will also alert the Department of Education because mostly, it is young children that are affected. If they see students having signs, they can send them home to isolate," he added.
Surveillance report showed that from only five cases in the first five weeks last year, 320 cases have already been recorded from Jan. 1 to Feb. 4, 2023.
Among the cities, Kabankalan recorded the highest number of cases with 73, from zero cases last year, while Cauayan has the most cases among the municipalities with 41.
The report showed most of the cases are children below 10 years old.
Dr. Ernell Tumimbang, provincial health officer, had earlier said that HFMD cases increase when there is unabated transmission, which means proper isolation is not being practiced.
It could be easily transmitted with face-to-face interaction, especially among schoolchildren, he added.
A contagious viral infection commonly affecting young children, HFMD is characterized by sores in the mouth and rashes on the hands and feet and transmitted through droplets or direct contact with nasal discharges, saliva, feces, and fluid from the rashes of an infected individual. (PNA)