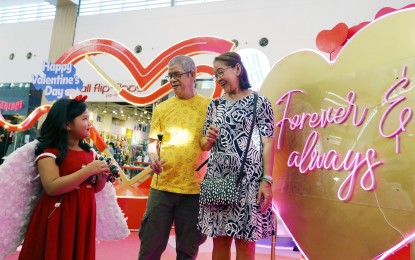 MANILA – Catholic priests on Monday reminded the faithful that expressing love need not be expensive.
Archdiocese of Manila spokesperson Fr. Reginald Malicdem, in a message, said true love "goes beyond what money can buy" and that doing small acts of kindness and praying for others are considered manifestations of love.
"There are many other creative ways of showing love. Being present to the person you love is one. You can say you love a person without being present to him/her. That is how God showed his love for us, by sending Jesus to be Emmanuel, the God-with-us," Malicdem said.
Meanwhile, Fr. Jerome Secillano, executive secretary of the Catholic Bishops' Conference of the Philippines-Public Affairs Committee (CBCP-PAC) called on couples to attend Mass together.
"Couples can go to mass together and there they can renew or profess their love for each other. They can write to each other (the old way) and make expressions and assurances of love," the CBCP official said.
He added that couples also have the option of spending the day at home, cooking their own food for dinner, and watching movies inside their house.
The celebration of Valentine's Day every Feb. 14 is in honor of St. Valentine, who was martyred for performing secret marriages for Roman soldiers, according to website history.com.
During this occasion, people usually gift their loved ones with items such as chocolates and flower bouquets, among others. (PNA)