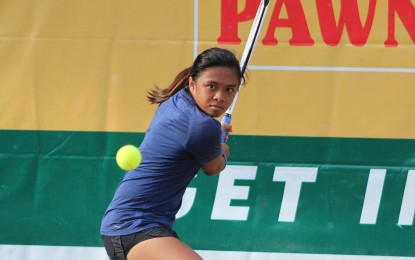 MANILA -- National University and Ateneo de Manila University scored contrasting victories in the women's division of the National Collegiate Tennis Championships at the Philippine Columbian Association (PCA) outdoor shell courts in Paco, Manila on Monday.
The five-time UAAP champion NU outclassed University of the Philippines, 4-1, in the round-robin competition organized by Palawan Pawnshop-Palawan Express Pera Padala (PPS-PEPP).
Elizabeth Abarquez won the opening singles match over Lucy Inalvez, 4-0, 4-0; Allyssa Mae Bornia and Alliah Elline Ragunton downed Franchezka Malaki and Dana Regala, 5-3, 4-1, in the first doubles match; Jessica Mae Carcueva clobbered Ana De Myer, 4-0, 4-0, in the second singles match; while Jan Marie Anghag and Rovie Baulate beat Kristine Martin and Achaia Cabahug, 4-2, 4-2, in the second doubles match.
The Lady Bulldogs were denied a sweep of the best-of-five tie after Angela Cabaral bowed to Renee Esteban, 0-4, 0-4, in the third singles match.
Meanwhile, Ateneo banked on Melanie Faye Dizon to pull off a 3-2 victory over De La Salle University.
Dizon, a quarterfinalist at the Rina Cañiza Women's Open Tennis Championships last week, prevailed over Mikaela Vicencio, 4-2, 3-5, 10-4, in the third singles match.
The Lady Archers led 1-0 when Aubrey Calma conquered Nina Sandejas, 4-1, 4-1, in the first singles match. But the Lady Eagles fought back to level the score when Althea Faye Ong and Tracy Llamas beat Arianne Nillasca and Kiezl Diaz, 4-0, 4-2, in the first doubles match.
La Salle regained the upperhand after Jazelle Madis trounced Gabby Sandejas, 4-1, 4-1, in the next match.
However, Francesca Marie Cruz and Marian Garsin clobbered Eliana Misa and Beatrice Gomez, 4-0, 4-1, to level the score at 2-all.
"After losing the second set, I became more aggressive. I started to dictate the points so it was easy for me to win the set," said the 22-year-old Dizon, a fourth year student taking up Inter-disciplinary Studies.
Ateneo coach Jennifer Saret, a four-time PCA Open champion, was happy with the victory.
"It's a good start. This is our first tournament since 2020. The players returned to practice only last September," said the former national player who is on her 15th year as coach of the Lady Eagles.
"This event is a good experience for the players as they prepare for the UAAP next month," she added.
Action in the men's division will begin on Tuesday.
Participating teams are NU, Ateneo and University of Santo Tomas in Group A, while in Group B are La Salle, UP and University of the East.
Cash prizes at stake in the men's and women's team event are PHP10,000 worth of products, trophy and medal for the champion while the runner-up will receive PHP5,000 worth of products, trophy and medal.
The men's and women's singles and doubles champions will get PHP5,000 worth of products and trophy, while the men's and women's singles and doubles runners up will be awarded PHP2,500 worth of products and trophy. (PNA)