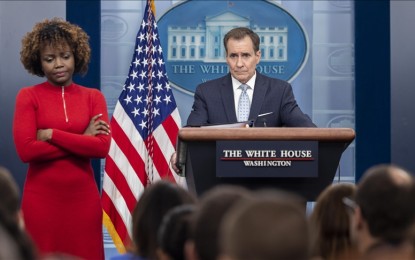 WASHINGTON – The US denied on Monday Beijing's assertions that Washington has been flying spy balloons over Chinese airspace, allegations made as the US downed a fourth "unidentified object" over the weekend.
The US has not attributed three of the objects to any country or purpose, but Washington has publicly attributed the first to China, saying the balloon was a surveillance aircraft linked to the Chinese military.
It was downed by an F-22 fighter jet off the coast of South Carolina on Feb. 4. China has claimed the aircraft, but said it was a weather balloon that blew off course.
The Biden administration has since said the balloon was part of a sprawling fleet of Chinese reconnaissance balloons used to surveil more than 40 countries across five continents.
Three other airborne objects have been shot down in the interim, including an unidentified object shot down Sunday over Lake Huron.
China on Monday accused Washington of flying 10 spy balloons over Chinese airspace since January 2022, saying it is "very common" for the US to do so in others' sovereign airspace, according to multiple reports.
The White House sharply refuted the allegations, saying "we're not flying surveillance balloons over China."
National Security Council spokesman John Kirby said the balloons the US has identified as being controlled by China "have provided limited additive capabilities to the PRC's other intelligence platforms used over the United States."
"But in the future, if the PRC continues to advance this technology, it certainly could become more valuable to them," he said, referring to China by its formal acronym.
Kirby attributed the discovery of the three other anonymous aircraft in part to increased vigilance of US and Canadian airspace following the discovery of the balloon that was shot down Feb. 4, saying the countries have "been more closely scrutinizing that airspace, including enhancing our radar capabilities."
Washington and Ottawa operate a joint military command known as North American Aerospace Defense Command (NORAD).
The three unattributed aircraft were flying at a lower altitude than the balloon shot down over US territorial waters, and were "right on the border of" altitudes used for commercial air traffic, Kirby said.
The US is "laser focused" on confirming the "nature and purpose" of the three unidentified objects that have been shot down in recent days, including via ongoing efforts to collect their debris, much of which is in remote wintry locations, Kirby said.
The debris from the aircraft shot down over Lake Huron is now likely in "very deep" waters, he said.
No additional objects are currently being tracked, according to the White House.
US President Joe Biden ordered the formation of an interagency team on Monday to study the balloons and unidentified objects, and their policy implications for "detection, analysis and disposition," said Kirby. (Anadolu)