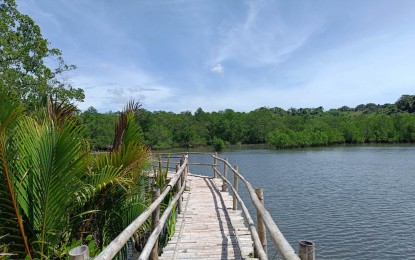 DUMAGUETE CITY – Efforts are now underway to restore the boardwalk of a mangrove forest in Siaton town, Negros Oriental province that has deteriorated during the coronavirus disease 2019 (Covid-19) pandemic.
Provincial Tourism Unit (PTU) chief Myla Mae Bromo Abellana told the Philippine News Agency in an interview on Tuesday that the Mangrove Conservation Walk in Barangay Siit, Siaton, has lots of potential to be an eco-tourism site provided strict regulations are in place.
"We visited the site recently, which is part of Tambobo Bay, and found out that the mangrove forest has the most number of mangrove species on Negros Island, with 28 of the 32 species found in the Philippines," she said.
The visit is the first of a series of discussions with a local cooperative that manages the mangrove boardwalk's affairs, she said.
Abellana noted the need to revisit the project as it was not able to fully take off about four years ago due to the pandemic.
"It is important that we are able to come up with a good plan of action to promote this site not just as a tourist destination but an opportunity for visitors to learn about mangrove ecosystems and their role in addressing environmental issues and climate change," she said in mixed English and Cebuano.
Evelyn Bucad, the acting team leader of the Palinpinon Palayuhan Siit Multi-Purpose Cooperative (PAPSIMCO), in a separate interview, said that in 2019, the site was originally known as the Siit Mangrove Eco-Park but now, they are working to have it changed to the Tambobo Mangrove Conservation Walk.
"The new name would reflect our mangrove conservation efforts as the old title seemed to present only the boardwalk as something simply for rest and recreation," she said in the Cebuano dialect.
Bucad said the Marine Conservation Philippines helped to build the 500-meter boardwalk made of bamboo.
The entire mangrove forest is about six hectares although the boardwalk is limited only to a small portion of the area, she said.
The Siit Mangrove Conservation Walk charges a PHP30 entrance fee and offers guided tours, and kayak and binocular rentals.
Among its attractions is the presence of wildlife aside from the 28 species of mangrove that can be found in the area, one of which is endemic to the Philippines – the endangered Camptostemon philippinensis, Bucad added.
Some of the other mangrove species found at the Siit site include the Suneratia alva (or pagatpat in the Philippines); Avicennia (bungalod) with four types -- alba, rompiana, marina, and officinalis; Aegiceras corniculatum; Aeigiceras floridum (both known as saging-saging); and three types of Rhizophora (bakhaw), namely, stylosa, apiculata, and mucronata, among others.
Fish, shrimp, crabs, and seashells also flourish in the mangrove area, Bucad said.
Abellana said there is a need to strengthen efforts and draw up a proper plan for the Siit boardwalk so that it can become the next tourism destination in the province, while the mangrove forest and its inhabitants, as well as those dependent on it, are reassured of protection and conservation. (PNA)