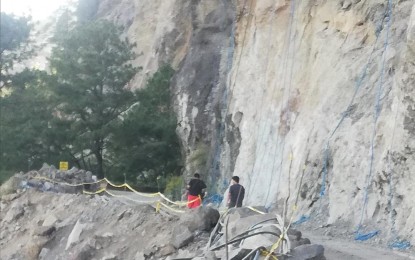 BAGUIO CITY – The Disaster Risk Reduction Management Council (DRRMC) of Mountain Province has shortened the period that the Mt. Data Cliff portion of the Baguio-Bontoc Road will be open to motorists to give more time for road repair.
Governor Bonifacio Lacwasan, in a phone interview on Tuesday, confirmed that starting next week (Feb. 20), motorists may only pass through the road from 6 a.m. to 8 a.m. and from 4 p.m. to 6 p.m. from Monday to Friday.
The current "window hours" are from 6 a.m. to 8 a.m.; 12 noon to 1 p.m.; and 4 p.m. to 6 p.m. from Monday to Sunday.
The midday window hour was removed by the PDRRMC during a meeting on Monday (Feb. 13) to give the project workers more uninterrupted worktime for faster completion of the damage on the Mt. Data cliff road section that incurred major damage during the July 2022 earthquakethat primarily hit the province of Abra.
The road will be closed on Saturdays and Sundays to give time for blasting, clearing operations, and other works.
The government has allotted PHP241 million to stabilize the slope where land and rockslide constantly occur.
Lacwasan said the meeting was an offshoot of a request for the total closure of the road section to motorists which was denied to allow farmers in Barangays Monamon and Sadsanan, Bauko to transport their produce to the trading post in La Trinidad, Benguet and bring home fertilizers and other farm inputs.
The welfare of the students of Mt. Data National High School living around the landslide area was also considered in deciding against the total closure of the road section.
During the period the road is closed, motorists will have to pass through Barangay Cada in Mankayan which would mean an additional 30 minutes of travel time.
Long trucks and those carrying heavy loads are still prohibited from taking the road and are advised to take the Ilocos Sur-Mankayan and Benguet Roads.
"They are supposed to take the Cervantez - Mankayan Rd. First, there are still not enough lay-bys because Cada is a farm-to-market road," Lacwasan said.
Buses can use the Cada Road, he added.
Travelers to the Mountain Province's capital town of Bontoc, including those going to Sagada, pass through the Mt. Data Cliff. (PNA)