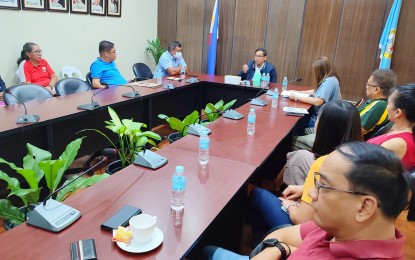 DAVAO CITY – The Davao del Norte provincial government has initiated interventions to address the troubled abaca sector in Talaingod town, where thousands of indigenous people (IP) are affected by the suspension of abaca-buying operations.
In a statement Tuesday, Governor Edwin Jubahib said he met with the Philippine Fiber Industry Development Authority (PhilFIDA) personnel and local buyers on Monday to find a solution to the problem faced by mostly IP abaca farmers.
"There is a need to resolve the issue to prevent the return of insurgency in the province," he said, referring to the past influence of the New People's Army in the town.
More than 2,638 IP families from 70 sitios (sub-village) in Talaingod town are affected by the suspension of abaca-buying operations, according to local officials.
The issue stems from PhilFIDA's "red-tagging" of the quality of fake abaca daratex fibers allegedly proliferating in the town.
Consequently, traders ceased to buy abaca from Talaingod, making existing production practically worthless.
Daratex abaca is a type of abaca fiber that is often of low quality and prone to processing problems and is considered to be fake as they do not meet the standards of genuine abaca fibers.
"The abaca industry is crucial for our region, and I will do everything to help our IPs produce the high-quality abaca that buyers demand," Jubahib said.
During the meeting with the provincial government, PhilFIDA Executive Director Annray Rivera and several exporters discussed long-term interventions to resolve the issue after the agency lifted on Feb. 7 the "red-tagging" on the buying of abaca from the Davao region, allowing traders to resume purchasing the fiber.
One of the solutions discussed was the elimination of fake abaca from Talaingod and replacing it with true abaca varieties, such as tanggongon, inosa, and maguindanaon.
With the support of the PhilFIDA and traders, Jubahib said he is committed to providing a sustainable solution that would help the IPs secure their livelihood for the long term.
'We are exploring the value-adding of discarded daratex fibers, including turning them into sacks and boxes, and providing the affected IP farmers planting materials for cash crops, fruit trees, and poultry," he said. (PNA)