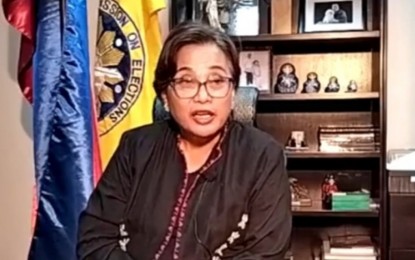 MANILA – A private lawyer asked the Supreme Court (SC) on Tuesday to cite former elections official Rowena Guanzon for indirect contempt over her Twitter posts.
Ferdinand Topacio said the tribunal must sanction the outspoken Guanzon, citing her repeated social media postings about a disbarment suit she filed against him.
Topacio said Guanzon violated the confidentiality of disbarment proceedings for "her repeated acts of maliciously mentioning the disbarment case on her social media account."
"There is no doubt that respondent's actions were unnecessary and intentionally done to humiliate and tarnish the reputation of [Topacio] publicly," the petition read.
"Specifically assailed in this Petition are the contumacious conduct of respondent through her aforementioned Twitter account in tarnishing the reputation of petitioner in public by maliciously and publicly disclosing for several times the disbarment complaint and unjust vexation case she filed against petitioner," Topacio added.
Guanzon filed a disbarment case against Topacio before the Integrated Bar of the Philippines in June last year "because he's using his being a lawyer to facilitate his commission of unlawful acts."
She also sued Topacio for unjust vexation case before the Bacolod City Regional Trial Court, following the latter's claim that she forced P3PWD partylist nominees to withdraw.
Guanzon's assumption of office as P3PWD partylist representative is on hold after the SC, also in June last year, temporarily stopped a Commission on Elections (Comelec) resolution allowing her to substitute as number one nominee of the group that represents persons with disabilities.
Guanzon has already taken her oath but the Duterte Youth partylist questioned the Comelec decision allowing her substitution following the withdrawal of P3PWD's original roster, composed of Grace Yeneza, Ira Paulo Pozon, Marianne Heidi Cruz Fullon, Peter Jonas David and Lily Grace Tiangco.
"Gustong gumanti sa akin. Akusado sya (He wants to get back at me. He's the accused)!" Guanzon posted on her Twitter account after learning of Topacio's contempt suit. (PNA)