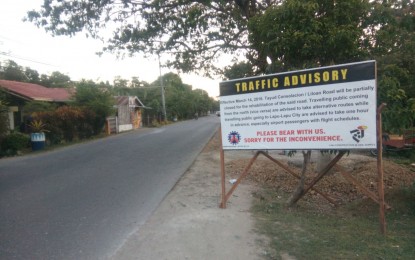 CEBU CITY – A provincial lawmaker in Cebu said Tuesday the timely completion of the road widening project in Consolacion and Liloan towns would cut the motorists' travel time to the north by at least half an hour.
Glenn Anthony Soco, 6th District provincial board member, urged the Department of Public Works and Highways (DWPH) 7 (Central Visayas) to work on the timely completion of the Tayud, Consolacion-Liloan road widening project.
The road is an alternative access from Mandaue City to Liloan, which shortens the travel time of cargo trucks delivering commodities to northern Cebu.
"This road widening project, which was initiated by the provincial government at its onset, was converted into a national project and is now within the jurisdiction and management of the DPWH," Soco said in an interview.
He recalled that the project began in 2009, noting however the "extremely slow-paced and sluggish" completion status.
Soco also noted that the road-right-of-way acquisition of privately-owned lots affected by the project remains an issue despite the passage of Republic Act 10752, a law that facilitates faster procurement of properties affected by national government infrastructure projects.
"This widening project's primary aim is to ease traffic congestion along the national highway from Mandaue City to the northern part of the province. It tends to worsen the traffic situation due to its slow progress of completion," he said.
Soco said the Provincial Board, through a resolution he authored, empowered Governor Gwendolyn Garcia to intercede, on behalf of the Cebuanos affected by the project, to solve the woes.
As the agency pledged to work hard to finish the project within schedule, DPWH-7 Director Ernesto Gregorio's office has yet to issue the detailed status of the undertaking. (PNA)