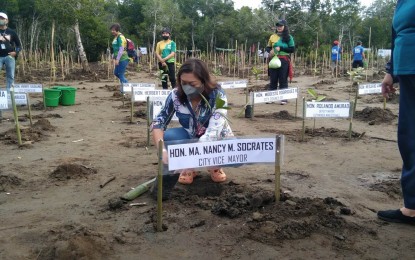 PUERTO PRINCESA CITY, Palawan – More than 7,000 mangrove seedlings were planted on Tuesday in Sitio Bucana, Barangay Iwahig here with the resumption of the "Love Affair with Nature", the city's way of celebrating Valentine's Day.
Now on its 19th year, the event which was suspended for three years because of the Covid-19 pandemic was themed, "A Vow to Fight Climate Change," and featured 109 couples who exchanged vows in a mass wedding ceremony officiated by Mayor Lucilo Bayron.
The City Environment and Natural Resources Office (City ENRO) prepared 8,000 seedlings of different mangrove species that were planted in the more or less two hectares of denuded mangrove forests.
In her message during the celebration, Vice Mayor Ma. Nancy Socrates underscored the importance of regularly planting not only mangroves but also other species of trees to address the ill effects of climate change.
She also said that aside from planting trees, there are other ways to exert other efforts to care for the environment.
"We have seen and felt the negative effects of climate change, that's why we need to strengthen our efforts by continuously planting trees," Socrates said.
"We can do this everyday in our surroundings and in the community. And we can also add other efforts that will help, like proper handling of wastes through segregation and practicing reuse, reduce and recycle. We have to continue loving and protecting our environment because in doing so, we are loving and protecting our families, our communities, our nation and the entire world," she added.
Bayron, on the other hand, emphasized the importance of protecting and rehabilitating mangroves for the present and future generations.
He said the City ENRO has laid out plans where, aside from planting, they will also conduct potting of seedlings for future planting activities.
He said the mangrove forests serves as home and breeding ground for several wildlife species.
"Mangroves also serve as our first line of defense as it protects us against tsunamis and storm surges," he added.
The mayor likewise called on residents to help in the protection and rehabilitation of mangrove forests.
"We should be proud that we are one of the local government units who can boast of wide mangrove forests. That's why I'm calling on everyone to help. If we see somebody violating [the law,] let us stop them and educate them on the importance of mangroves" he said.
This year's "Love Affair with Nature" is participated by more than 1,000 residents from different sectors including government employees, civic organizations, members of the Philippine National Police, Bureau of Fire Protection, and the academe. (Gerald Ticke/PNA)