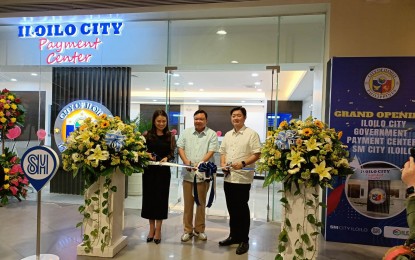 ILOILO CITY – The city government here has made tax payment transactions easier and more accessible with the opening of its fourth and biggest offsite payment center in SM City on Tuesday afternoon.
"This year we did not experience a long line in lloilo City Hall. It's not because we don't want to see the faces of our taxpayers and business permit renewal applicants. We just tried to make it easier for them to renew," Iloilo City Mayor Jerry P. Treñas said in his message.
The setting up of offsite payment centers in malls aims to make payment transactions convenient, further bring ease in doing business in the city, and make services accessible and more convenient.
The center will handle the renewal of business permits, assist in the creation of the Integrated Business Permits and Licensing System, accounts assessment and payment for Real Property Tax, issuance of the community tax certificate, and permit-related issuances, including the fire safety inspection certificate, sanitary permit, tourism license, and boarding house, among others.
SM Supermalls vice president for operation Michelle Leslie K. Llanos, in her message, said the services "will be very valuable to our shoppers and more so to our own tenant partners, majority (of whom) are micro, small and medium enterprises (MSMEs)."
"MSMEs have limited time and manpower to go far to be able to do their business transactions. As you may know, MSMEs are very close to our hearts, since SM also started 65 years ago as an MSME. This is why any and all ways we can to assist our MSME tenant partners, we do – for their growth and the growth of the communities they are in," she said.
Iloilo Economic Development Foundation chairperson Terence Uygongco, in his message, said the payment center benefits those who live far from the city hall and those with mobility challenges.
Velma Jane Lao, head of the Iloilo City Local Economic Development and Investment Promotion Office, said on Wednesday that they have issued 12,592 business renewals as of Jan. 31, higher than the 12,287 logged in the same period last year.
Of the issuances, 4,202 were in malls and 8,390 were transacted at the city hall.
Other offsite centers are available on the third floor of the Atrium mall, the second floor of the Megaworld Festive Walk Parade Building, and at the food court area of the Marymart Center.
The payment center at SM City can accommodate 75 clients in one sitting. (PNA)