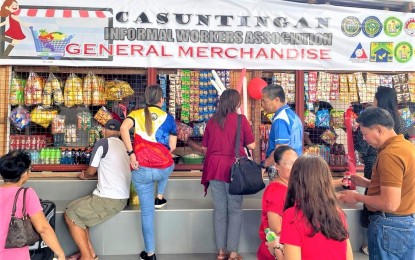 MANDAUE CITY, Cebu – A group of informal workers in this industrial city in Cebu province can now plot a marketing plan that could augment their income to support their families.
The Casuntingan Informal Workers Association (CIWA), which has 57 members who worked as habal-habal (motorcycle taxi) drivers, laundry women, nannies, house helps or kasambahay, ambulant vendors, fish traders and manicurists designed their business plan that would launch general merchandise akin to a convenience store.
The group said they were able to come up with a plan through the help of the Department of Labor and Employment (DOLE) Region 7's training.
Concepcion Abello, who immersed as an ukay-ukay (used clothing) vendor, nanny and laundry mate, said the group has proudly shown off their new skills -- managing a business that she and other members owned using the almost PHP1 million livelihood assistance extended to them by the agency.
Abello said the business model is simple, which is to help bring basic commodities right to the doorstep of their neighborhood while giving her and other informal workers in Barangay Casuntingan the opportunity to learn how to run a business that they designed themselves.
As they wrote their business proposal in the local dialect, Abello recalled a line in their marketing plan: "Para dili maglisod og pagpangompra sa gawas sa mga basic nga palitonon ug para madugangan pud ang income sa mga miyembro nga walay klarong kita (To help the neighborhood buy basic goods easily and to augment the income of the association members, especially those who have no regular means of making a living)."
The aim of the marketing plan, she said, is for each member to increase their quarterly income by at least PHP4,000 each.
"We are thankful to DOLE for providing us the financial assistance and for the trust that we can manage our own business," Abello said in Cebuano.
The funding extended to the group was taken from the DOLE's Integrated Livelihood and Emergency Employment Program (DILEEP).
"While they do their informal jobs as habal-habal drivers, manicurista (manicurist), yaya (nanny), kasambahay (house help), or lab-asera (fish vendor), they can also earn from other means, and that is from the business that they organized. They earn while they learn how to run a business," DOLE-7 information officer Luchel Senarlo-Taniza told the Philippine News Agency.
Marites Mercado, DOLE-7's Tri-City field office head, the Casuntingan Informal Workers Association received a total of PHP996,135 as a livelihood assistance grant used to purchase jigs and materials required for their general merchandise business.
During the opening of their store on Feb. 8, DOLE-Tri-City Field Office (TCFO) head Marites G. Mercado urged the beneficiaries to value and take care of their livelihood project.
"The barangay council of Casuntingan will help us closely monitor the implementation of the project and see to it that the point-persons identified under the association's Project Management Team will religiously execute their functions and responsibilities," Mercado said.
DOLE-7 also enrolled the members in a group accident personal insurance (GPAI) with the Government Service Insurance System for a year.
According to Taniza, nearly 6,000 individuals in Central Visayas benefited from the PHP78.8 million worth of livelihood assistance released by DOLE-7 in 2022. (PNA)