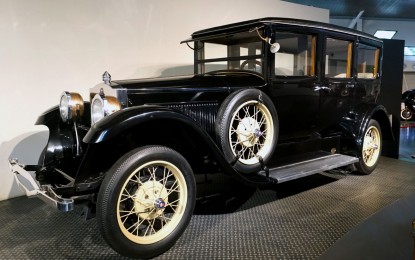 MANILA – Northern Samar 1st District Rep. Paul R. Daza announced Wednesday the upcoming release of the implementing rules and regulations (IRR) of Republic Act 11698 or the "Vintage Vehicle Regulation Act" of 2022, which will take effect in April this year.
In celebration of this milestone and to encourage the people to value historical assets, Daza, along with many other fellow vintage car enthusiasts, visited early Wednesday morning the Presidential Car Museum at the Quezon City Memorial Circle.
"It's the love month and our love for old things must be celebrated," the lawmaker said.
The museum hosts 12 presidential vehicles, all of which have been restored through the efforts of the National Historical Commission of the Philippines (NHCP), with most looking sparklingly "new" while still proudly carrying their rich history.
"We're here in the museum today not just to celebrate the law on vintage vehicles but also to encourage Filipinos especially the youth to honor history and the sacrifices of our heroes and former presidents," the solon said, adding that seeing these presidential cars, carefully preserved, certainly makes him prouder of former Filipino presidents and the country's rich heritage.
The presidential cars, based on records, date as far back from the regime of Emilio Aguinaldo up to the term of Gloria Macapagal-Arroyo, missing out on Sergio Osmeña's car, which is in Cebu, and Carlos Garcia's car, which was not recovered.
During the celebration, Daza was accompanied by members of the Manila Sports Car Club (MSCC) led by its founder, lawyer Andy Sta. Maria. MSCC was established in 1967 and is, so far, the oldest car club in the country.
"MSCC was formed to provide for the preservation and enjoyment of sports cars. Of course, our members are also excited about this landmark legislation. A part of my wish list? I would really like to encourage the restoration and preservation of vintage cars to the highest standards," Sta. Maria shared.
MSCC, with some 130 members, hopes to stage concours d' elegance and historic racing, which could help promote awareness and continued interest in vintage vehicles, according to Sta. Maria.
RA 11698 was enacted in April 2022. It covers vehicles that are already 40 years or over from the date of their original manufacturing. The law allows the importation, exportation, and registration of vintage vehicles. Registration with the Land Transportation Office (LTO) will be valid for 3 years, under the new law, where owners can avail of special "Vintage Vehicle" plates.
Daza also envisioned the law to allow the Philippines to further develop its vintage car restoration industry. He said there are many talented car restorers in the Philippines that would benefit from the importation provisions in the Vintage Vehicle Law. "Lessening their burdens to import vintage vehicles and parts will help them tap more international clients and expose the craftsmanship of the Filipino to the world," he added.
"Vintage vehicles are not mere 'toys'. Of course, they are sources of pride and enjoyment. However, it is important to optimize the potential economic opportunities that they can create while preserving the country's heritage in its motoring history," Daza said. (PNA)