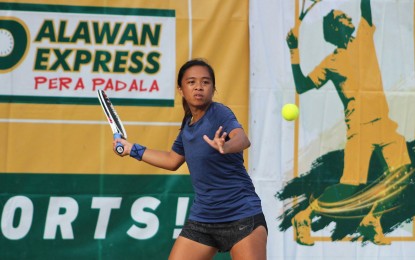 MANILA – The National University posted its third consecutive win at the expense of De La Salle University to claim the first final berth in the women's division of the National Collegiate Tennis Championships at the Philippine Columbian Association (PCA) outdoor shell courts in Paco, Manila on Wednesday.
Bannered by 2022 PCA Open doubles champion Allyssa Mae Bornia, the five-time UAAP champion Lady Bulldogs outclassed the Lady Green Archers, 4-1, to arrange a championship showdown with the Ateneo Blue Eagles on Friday.
La Salle, runner-up in the UAAP Season 81, got off to a good start when Mikaela Vicencio demolished Jessica Mae Carcueva, 4-0, 4-0, in the opening singles of their best-of-five tie.
But NU claimed the next four matches. Bornia and Alliah Elline Ragunton clobbered Angel Alcala and Jazelle Madis, 4-1, 4-1; Elizabeth Abarquez whipped Aubrey Calma, 4-0, 4-1; Jan Marie Anghag and Rovie Baulete outplayed Arianne Nillasca and Kiezl Diaz, 4-2, 5-4 (1); and Dana Mariella Abad waylaid Stef Martin, 4-0, 4-0.
Meanwhile, the Blue Eagles advanced to the final round after pulling off a 3-2 victory over the University of the Philippines Lady Maroons.
Once again, Melanie Faye Dizon played the heroics for the Katipunan-based netters when the Rina Cañiza Women's Open Tennis Championships quarterfinalist conquered Renee Esteban, 4-1, 4-0, in the deciding singles match.
Ateneo earned the first point after Tracy Llamas routed Achaia Cabahug, 4-0, 4-0, in the opening singles but UP equalized when Anna Laura De Myer and Dana Regala beat Marian Garsin and Francesca Marie Cruz, 4-1, 5-3.
Althea Faye Ong prevailed over Bianca Pica, 4-0, 4-2, as the Blue Eagles regained the upper hand at 2-1. However, the Lady Maroons fought back behind Lucy Inalves and Anica Cari, who hacked out a 4-2, 4-2 win over siblings Nina and Gabby Sandejas to forge a 2-all count.
"For me, it was a good challenge that I had to deal with. I tried my best to be aggressive the entire match and go to the net, as well to win points when I had the chance to have more variety in my play," said the 22-year-old Dizon, who was born and raised in Santa Rosa, Laguna. She is a fourth-year student taking up Inter-disciplinary Studies.
Four-time PCA Open champion Jennifer Saret, who has been coaching the Ateneo women's team for 15 years, said, "We are lucky to be in the final(s). We will do our best."
Ateneo finished the round-robin elimination with a 2-1 (win-loss) slate. La Salle ranked third with a 1-2 card followed by UP (0-3).
The champion will receive PHP10,000 worth of products, a trophy, and a medal while the runner-up will get PHP5,000 worth of products, a trophy, and a medal in the tournament organized by Palawan Pawnshop-Palawan Express Pera Padala. (PNA)