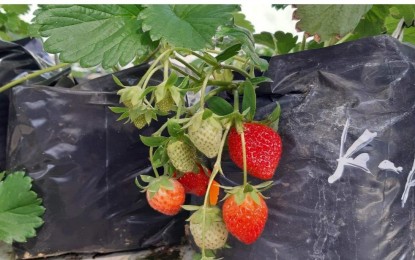 BAGUIO CITY – The municipal government of La Trinidad has urged farmers to adopt elevated strawberry farming to produce three times their regular yield and battle the effects of land conversion.
Nida Organo, municipal agriculture officer of Benguet's capital town La Trinidad, said that due to land conversion, strawberry farmers are left to rent spaces to grow their produce as more farmlands become privately owned and are converted for other non-farming purposes.
"We urge the farmers to adopt the new technology which has been proven to increase yield three times more than what is produced when farming on the ground," Organo said on Wednesday.
Organo cited the La Trinidad Strawberry Farm as an example, saying that the pieces of land that the Benguet State University-owned property rents out to strawberry farmers are becoming fewer due to land conversion.
The biggest conversion in the area happened in early 2000 with the establishment of the Benguet Agripinoy Trading Center (BAPTC), where a facility for trading, storage, and simple processing of highland agricultural products was established.
Elevated or vertical farming is the practice of growing crops in vertically stacked layers. Benguet farmers learned this type of farming technology from Japanese farmers sent by the local government of Kochi Prefecture through an agricultural exchange program between Kochi and Benguet, whose ties date back to 60 years ago.
Based on the most recent inventory, 37 irrigated areas in town are currently being used for strawberry farming. Strawberries are also planted in mountainous areas in some villages during the rainy season.
The town has recorded an average production of 11.44 metric tons of strawberry during its season that starts from December up to April.
Aside from strawberries, farmers also intercrop the fruits with other crops like lettuce to maximize the area they are renting and recoup the money they spend for rent, Organo said.
Year-round
Organo said that unlike in the 1980s and early 1990, strawberries are now being produced year-round with prices varying depending on the season.
She said that for the open field plots, production is limited to six months as berries are easily damaged by rain.
In contrast, those that use tunnel greenhouses that house elevated farming can produce year-round. Tunnel greenhouses are those that are covered by thick plastic that is held by bamboo or metal braces to prevent collapse.
Organo, however, clarified that during the off-season, berries produced tend to be smaller both in size and quantity than those produced during the strawberry season. (PNA)