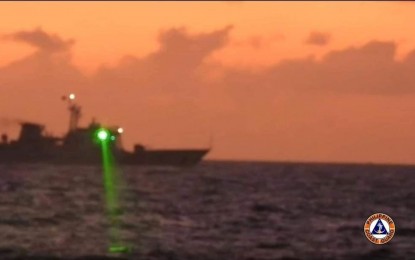 MANILA – The United Kingdom and several other countries backed Manila in its latest protest against the Chinese Coast Guard (CCG) over a lasing incident in the Ayungin Shoal last Feb. 6.
"The UK supports and joins the Philippines in expressing our serious concern regarding the intimidatory actions towards lawfully operating Philippines vessels in the South China Sea. These dangerous acts are in violation of international law," the British Embassy in Manila said.
"The UK is unwavering in our position on UNCLOS (United Nations Convention on the Law of the Sea), and that the 2016 arbitral decision is final and legally binding," it added.
Canada, Germany, and Denmark also voiced their concerns and called on China, a party to the UNCLOS, to comply with its obligations, including the 2016 arbitral ruling.
"Recent actions that disrupted the lawful operations of Philippine vessels off the coast of the Philippines are in violation of international law and contrary to the maintenance of regional peace and stability, and the rules-based international order," Canadian Ambassador to the Philippines David Hartman said.
German Ambassador to the Philippines Anke Reiffenstuel, in a separate tweet, stressed that the 2016 award is "final and legally binding."
READ: Japan airs 'serious concerns' over China's laser use in Ayungin
After the Philippine government filed a diplomatic protest and summoned the Chinese Ambassador in Manila, China's Ministry of Foreign Affairs (MOFA) on Feb. 14 said both sides have communicated about the issue through an "existing maritime-related communication channel between the foreign ministries".
However, it reiterated its claim over the Ayungin Shoal and branded the arbitration case as "pure political drama orchestrated by the US". (PNA)