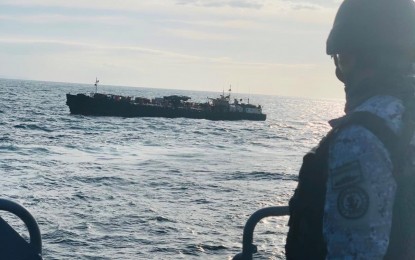 MANILA – The Philippine Navy (PN) announced that one of its two newly-acquired missile boats, the BRP Lolinato To-Ong (PG-902), intercepted an oil tanker carrying some PHP50.8 million worth of unmarked diesel fuel during operations off Corregidor Island.
In a report Thursday, the PN's Naval Forces Southern Luzon (NFSL) identified the intercepted tanker as the M/T Braleman 1 with 11 crew members on board and carrying around 847,000 liters of diesel.
NFSL spokesperson Lt. Regeil G. Gatarin said the ship was intercepted at 6 p.m. Wednesday some 8.8 nautical miles southwest of Corregidor Island.
"Before the interception, on February 14, 2023, NFSL received information regarding an apprehension alarm issued by Coastguard District Palawan dated February 12, 2023 on the said vessel. Furthermore, NFSL tracked M/T Braleman 1 in the vicinity of Cabra Island, Mindoro as it moved towards Manila Bay until intercepted by BRP Lolinato To-Ong," he added.
This prompted NFSL's Naval Task Force 31 to immediately deploy BRP Lolinato To-Ong, which was docked at the Lucena Port in Lucena City, Quezon province.
"Prior to the conduct of the interception and apprehension operations, BRP Lolinato To-Ong embarked five customs officers from the Bureau of Customs at Batangas Port to serve a seizure and detention warrant on the aforementioned vessel," Gatarin said.
He added that the PN will continue to assist the government in its campaign against fuel smuggling.
BRP Lolinato To-Ong is the second ship of the new Acero-class fast attack interdiction craft-missiles (FAIC-Ms) patrol gunboats of the PN procured from Israel and commissioned last Nov. 28, 2022 and placed under the operational control of Naval Forces Southern Luzon.
Seven more FAIC-Ms are expected to enter PN service within the next two years.
The M/T Braleman 1 is now being escorted to Manila Bay where it will be handed over to the proper authorities. (PNA)