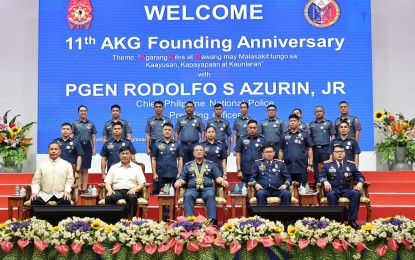 MANILA – Philippine National Police (PNP) chief Gen. Rodolfo Azurin Jr. lauded the efforts and strengthened operational capabilities of the Anti-Kidnapping Group (AKG) as the force's primary unit responsible for operations and investigations against kidnapping perpetuated by organized crime and terrorist groups in the country.
During Wednesday's celebration of the AKG's 11th founding anniversary in Camp Crame, the PNP chief said the group has established itself as a leading force in the fight against kidnapping which resulted in the rescue of countless victims and the arrest of many perpetrators.
"However, it is important to acknowledge that there are still hurdles to overcome. Kidnapping continues to pose a danger in some communities as culprits constantly devise new methods to carry out their crimes," Azurin said
Azurin said the PNP-AKG must be vigilant and keep its strategies and tactics ahead of criminal elements.
"Looking forward, let us continue to evolve and adapt to the changing landscape of security challenges by investing in training and technology to enhance the capabilities of our operatives; improving our intelligence gathering and analysis capabilities; and strengthening partnerships with external stakeholders and other law enforcement agencies," Azurin added.
In 2022, a total of 17 rescue operations were conducted, resulting in the recovery of 59 victims and the arrest of 33 suspects.
Nine kidnap for ransom (KFR) suspects were killed in operations.
Among notable accomplishments was the successful rescue operation on Sept. 14, 2022, in Angeles City, Pampanga province, at the height of the issue of POGO (Philippine Offshore Gaming Operations)-related crime incidents which resulted in the arrest of one Chinese national and the rescue of 43 Chinese nationals.
An operation on June 14, 2022 resulted in the neutralization of two suspects after an armed encounter in Pililla, Rizal. However, one AKG member was seriously wounded in the encounter and later passed away.
In addition, AKG's intensified manhunt operations in 2022 resulted in the arrest of 79 most wanted persons and 121 other wanted persons, the majority of whom were charged for offenses with bail not lower than PHP100,000.
It likewise contributed to the PNP's campaign against loose firearms, which facilitated the surrender of 73 firearms, recovery and seizure of 17 firearms, 596 ammunition, and 3 explosives.
The AKG Visayas Field Unit also facilitated the surrender of a finance and logistics officer of the New People's Army (NPA) and one rebel supporter who served as a courier.
Since its establishment in 2012, PNP-AKG has made significant contributions to the PNP's efforts to prevent and solve kidnapping cases. With its team of skilled and dedicated personnel, PNP-AKG has successfully rescued victims, arrested perpetrators, and dismantled kidnapping syndicates.
Azurin also extended his sincerest gratitude to all PNP external stakeholders and partners from various organizations and private sectors.
"Your support has been crucial in our quest for a safer and more equitable society. I am deeply grateful for your invaluable contribution and partnership," the country's top cop expressed.
Highlighting the celebration is the awarding of a plaque of recognition to the most deserving PNP-AKG personnel for their significant contributions to promoting public safety and security in the country. (PNA)