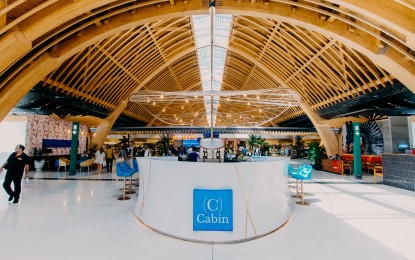 CEBU CITY – The Mactan-Cebu International Airport Authority (MCIAA) on Thursday vowed to live up to its standards in making central Philippine's premier airport a major gateway.
This developed as MCIAA was named Asia's Best Airport among 200 airports in the Asia Pacific under the "5 million passenger category" in this year's Routes Asia Awards in Chiang Mai, Thailand, Wednesday.
The Visayas' premier airport was recognized for its effort to increase passenger traffic amid the global health crisis brought about by the coronavirus disease (Covid-19) and other calamities.
"GMR Megawide Cebu Airport Corporation (GMCAC) has always taken a two-pronged approach to route development: airline marketing to create supply and destination marketing to ensure the sustainability of its airline partners' presence and address the demand for air services," Routes Asia said in a statement posted on its website.
Routes Marketing recognizes the remarkable efforts of airports, airlines, and destinations during their 2022 streak as they carry out their recovery strategies for 2023.
Lawyer Tani-Angub Gaviola, Naomi Arcayan, Elmar Tagaloguin, and Jemar Nietes received the award for the MCIAA while being accompanied by GMCAC's Aines Liboro, Ivan Romano, and Inaki Ponio.
"Returning for the first time since 2019, the Routes Asia 2023 Awards recognizes the incredible work carried out by airlines, airports and destinations in 2022 along with their ongoing strategy for 2023," said GMCAC in a statement.
Julius Neri Jr., MCIAA general manager and chief executive officer, cited the public-private partnership between the governing board and the airport's private management in running the main gateway in Central Visayas and the support from the national and local governments.
"The airport got astounding support from the Department of Tourism and the Department of Transportation. We should thank (Secretaries) Christina Garcia Frasco and Jaime Bautista, for their support has made us move forward from the effect of the Covid-19 pandemic and Typhoon Odette," Neri told the Philippine News Agency in an interview.
Neri also cited the support from the provincial government, saying that Governor Gwendolyn Garcia's policy initiatives on tourism, peace, and development helped to pump prime visitor traffic in Cebu.
He vowed to do more as he eyed to vie for higher recognition in a different category in next year's award.
"It was the way we marketed the effort as a destination that dramatically increase the number of arrivals from zero after Typhoon Odette to 2 million in the later part of 2022. This is indeed a very perfect example of the public-private partnership between the MCIAA and GMCAC," he added.
GMCAC Director Rafael Aboitiz, in a separate statement, said the recognition denotes their strong commitment to resume the pre-pandemic connectivity while carrying out strategies in both airline and destination marketing.
MCIA, the Philippines' second busiest airport, is located in a 797-hectare site in Lapu-Lapu City on Mactan Island.
During the awarding night on Wednesday, DOT was also named the winner in the "Destination Category", citing its "persistent in its efforts to partner with airports and airlines to reinstate discontinued routes and secure new air services."
Singapore Changi Airport has been crowned the overall winner of this year's awards, as Routes cited the hub's increased traffic to 32.2 million passenger movements, from just 3.1 million passenger movements in 2021. (PNA)