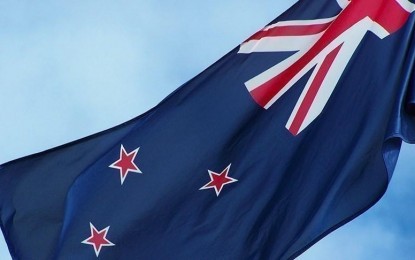 ANKARA – New Zealand on Thursday issued a severe thunderstorm warning for the Bay of Plenty region along the northern coast of North Island after Cyclone Gabrielle triggered widespread flooding and landslides.
"Extensive thunderstorms continue across the North Island, especially the Bay of Plenty. About 4400 lightning strikes registered this afternoon and evening so far," the MetService tweeted.
The death toll from the cyclone, which caused widespread flooding and landslides, has risen to five after the body of a man in his 60s was recovered from flood waters in Gisborne, while several others are still missing in various areas, state-run Radio New Zealand (RNZ) reported.
Prime Minister Chris Hipkins said the number of fatalities in the aftermath of the cyclone could rise as 3,544 people were registered with the police because their families or friends were unable to contact them.
However, 450 people have now been reportedly found, he added.
"And we do need to be prepared for the likelihood that there will be more fatalities," Hipkins was cited by RNZ as saying.
According to the prime minister, the flood and landslides inflicted massive damages in Gisborne, a city on North Island.
Damage in Gisborne is extensive, he said, adding that there is "absolutely no doubt" that communities impacted are under enormous pressure, he told reporters.
On Wednesday, local officials said more than 9,000 people were displaced and approximately 3,000 were shifted to civil defense centers.
The government also moved the army to help the affected people.
On Tuesday, New Zealand declared a national state of emergency in six regions, including Northland, Auckland, Tairawhiti, Bay of Plenty, Waikato, and Hawke's Bay.
A national state of emergency has been declared for the third time in New Zealand's history. It was first declared following the 2011 earthquake, and again in 2020 during the Covid-19 pandemic.
Roads in the affected regions are also still impassable due to flooding and landslides, and telecommunications services have been disrupted. (Anadolu)