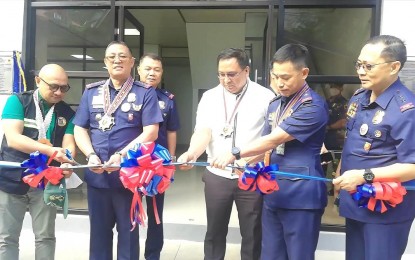 LA TRINIDAD, Benguet – A structure that will soon house a state-of-the-art facility for forensic work was inaugurated inside the Philippine National Police-Cordillera regional headquarters at Camp Bado Dangwa here on Thursday.
The Department of Public Works and Highways (DPWH)-Cordillera turned over to the PNP-Cordillera's regional Forensics Group (RFG) the PHP40-million, four-story building that stands on a 240-square-meter land inside the police camp.
"We will be allocating funds or looking for partner agencies that will help us equip this new building with the up-to-date equipment," said Gen. Rodolfo Azurin Jr., Philippine National Police chief, in a media interview on the sidelines of the inauguration and turn-over of the structure late Thursday afternoon.
Prior to the construction of the facility, the regional police relies on forensic services in Metro Manila, slowing down its investigation.
"We have instructed the director of the Forensics Group to start to program the priority equipment for this building so that we can find funds and what the Cordillera needs the most that must be procured," Azurin said.
In response, B/Gen. Constancio Chinayog, chief of the national Forensics Group, said bringing in forensic equipment to the facility will be next on their agenda.
"Slowly we will be procuring because the equipment is expensive and we know that we have to program for a budget to be obtained," he said.
"The goal is to duplicate the capability of the national facility that has state-of-the-art equipment so that we do not need to bring specimens, samples, and pieces of evidence to Metro Manila for examination," he added.
The pieces of equipment envisioned to be placed at the new facility include a machine for DNA (deoxyribonucleic acid) profile examination (for firearms ballistics), a polygraph machine for lie detector tests, a computerized facial composite machine to generate a facial drawing of suspects, and a machine for firearms recognition, among others.
He clarified that while the RFG is currently capable of doing the ballistics examination of firearms, it still done manually.
"With the plan to equip the region with modern technology for said examinations, the possibility of human error is reduced aside from a speedier release of results," Chinayog said.
"All the other technical units [also] need to level up because criminals are also leveling up which requires us to improve our technical capabilities," he added, stressing the importance of forensics in solving cases.
Chinayog said the RFG is also trying to upgrade its International Organization for Standardization certification.
The RFG currently has an ISO 9001-2015 certificate and is aiming for an ISO 17025, which specifies the general requirements for the competence to carry out tests and/or calibrations, including sampling. (PNA)