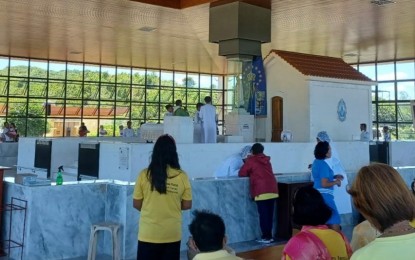 CEBU CITY – The Roman Catholic Church in Cebu on Friday launched a coffee table book featuring the Capelinha de Fatima as a new center of Marian pilgrimage in the Philippines and Asia.
The "little chapel" that has a glass-encased statue of the Our Lady of Fatima inside a huge sanctuary at Tinubdan Hills of the upland village of Lambusan in San Remegio -- about 100 kilometers from Cebu City -- is an exact replica of the Shrine of Fatima in Portugal where the Virgin Mary made a series of apparitions to three peasant children in 1917.
Archbishop Jose Palma, who led bishops, clergy and lay volunteers in the launching of the coffee table book, said the Capelinha in Cebu is the fourth replica of the Portugal shrine ever constructed in the world, and is the first in Asia.
The other replicas are in the United States, Brazil and Puerto Rico.
"To us here, having the Capelinha is in itself a blessing, providential because we have it here in Cebu. The journey is beginning to have a face (in the coffee table book)," Palma said, citing the World Apostolate of Fatima for choosing Cebu even though other places in the country had lobbied to have it built somewhere.
Palma thanked the Balili and Ruiz families in the hilly land of Tacup in San Remegio for donating the 3-hectare lot where the Capelinha is now standing, overlooking the northwestern seaboard of Cebu province.
Auxiliary Bishop Ruben Labajo, who is the vice chairman of the Tres Pastorinhos de Fatima Foundation, Inc. that assisted in the construction of the sanctuary complex in San Remegio, said the book launching was meant to memorialize the consecration of the replica shrine of the Fatima.
"The book would remind us of the event as our living experience. We are very much touched by the celebration, and may that celebration re-live in our memory and the message of the (Blessed Virgin of) Fatima would lead us to conversion," Labajo said, as he thanked Fr. Moenil Lapa for working as editor of the coffee table book.
Debrah Andales, a lay volunteer for the project, said the Capelinha in San Remegio will promote Cebu's northern corridor as a "faith tourism site" and is expected to be flocked by thousands of pilgrims from around the country, in Asia, and the world.
The Capelinha in Cebu was opened to the public in October of 2021. The Archdiocese of Cebu, through Palma, consecrated the sanctuary on April 4, 2022 in the presence of more than 6,000 pilgrims.
Palma urged the faithful to visit the Capelinha "to pray and to commune with God through the intercession of Mama Mary of Fatima."
The original shrine of Fatima in Portugal attracts millions of Catholic pilgrims annually.
Like the original shrine, the Capelinha in Cebu has at the heart of the sanctuary complex the Chapel of the Apparitions, the spot where, between May 13 and Oct. 13 in 1917, the three peasant children – Francisco, Jacinta, and Lucia – witnessed a series of appearances of the Virgin Mary. (PNA)