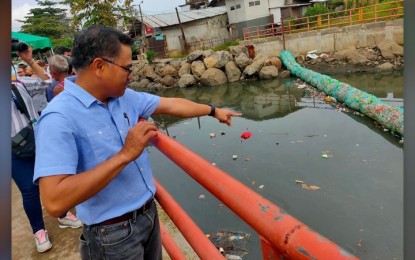 CAGAYAN DE ORO CITY - The Department of Environment and Natural Resources in Northern Mindanao (DENR-10) made operational the "trash trap" projects to reduce floating garbage in two barangays here on Friday.
DENR-10 Executive Director Henry Adornado identified the villages of Lapasan and Puntod as the two pilot areas for the project in the region amounting to PHP500,000.
An additional PHP100,000 of the fund was also turned over to the caretakers of the projects in the two villages, he said.
Adornado said the projects will be monitored by the DENR, while the management will be spearheaded by the barangays.
Installed in creeks and waterways, the trash traps target to reduce floating garbage in the city, leading to lesser incidents of urban flooding.
Forester Mercidita Barbarona, DENR-10 assistant chief for the conservation and development division, said the trash trap is an innovation for the city through the introduction of Adornado who patterned the successful project in Quezon province.
Meanwhile, Armen Cuenca, the chief of the city environment and natural resources office (Clenro), committed to implementing the project in the city's 80 villages with appropriate funding.
Cuenca said the city government has already allocated funds for the trash trap this year for a citywide implementation.
In the pilot villages, the Clenro office affirmed that it will buy the trash coming from the traps through its "Trash to Cash" program.
It also announced that the city government has constructed a recycling facility to densify the plastics trash. (PNA)